TRADE SHOWS
Pooltradeshow Remains an Alternative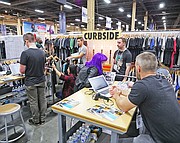 Pooltradeshow, which ran Feb. 21–23 at Las Vegas' Mandalay Bay Convention Center, kept its status as a trade show for fashion alternatives.
Exhibiting at the recent run of the show was OppoSuits, which features suits that retail for $100 or less. OppoSuits bear humorous prints such as a deck of playing cards or St. Patrick's Day shamrocks. There was Out of Print, which specializes in T-shirts bearing images of cover art for controversial books such as "1984" and "A Clockwork Orange." Also exhibiting was Dapper Boi, a clothing line for androgynous women and men.
Pool marked the first major trade show for Dapper Boi, and the label's founder Vicki Pasche said that the show was a great forum for networking. "We made some really great contacts and have some very interested retailers that we are speaking with this week," she wrote in a post-show email.
The Next Level Apparel basics label exhibited at the show and sponsored Pool's photo booth, its interactive charging lounge and a live screen-printing section of the show. Jeremy Morillo, a Next Level senior account executive, said the show gives an opportunity for his well-established company to network. "It allows us to really connect and see what the new emerging brands are doing. It keeps us in touch to understand the who's who and what's what to help deliver a new and exciting product for the following years," he said.
New sections introduced at the show included the Japan Shop, a section devoted to Japanese brands.