TRADE SHOWS
Texworld USA Reveals New Fabric Trends Among Exhibitors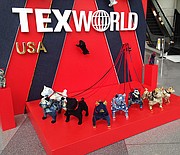 NEW YORK—New looks in denim and advances in technical fabrics were hot topics at the recent Texworld USA, a large fabric sourcing event held Jan. 22–24 at the Jacob K. Javits Convention Center.
More than 4,000 visitors made their way through the large exhibition space, which featured a number of overseas exhibitors, especially from China and other parts of Asia.
Activewear and athleisure trends have been driving fabric innovation, said Show Director Jennifer Bacon. "Athleisure has been a big movement," she noted. "But we noticed denim starting to make a comeback—though it might not be your classic five-pocket indigo."
Indeed, many of the denim manufacturers at Texworld USA were showing fabrics with surprising patterns, thanks to new digital-printing methods.
For athletic apparel, Chinese textile manufacturer Hanuo displayed a range of technical fabrics, including one with special reflective fibers. "When light shines on it, you can see different designs on the fabric," said Dorothy Feixian of Hanuo.
Sustainability and ethical sourcing were also major topics at the show. "People want to know the backstory of what they're wearing and where it's coming from," Bacon observed. Responding to this interest, Texworld USA featured almost 20 sustainable exhibitors and presented a half-dozen seminar sessions on sustainability and related topics including supply-chain transparency, the circular economy and the environmental impact of microplastics.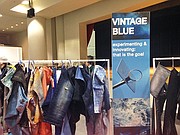 "It's about planet, people and profit," said Tricia Carey of Lenzing Fibers, which organized the seminars. "There always has to be a balance between them."
As an example, she mentioned closed-loop processing, in which nearly 100 percent of solvents are reused in the manufacturing of the Lenzing fiber Tencel. "That's beneficial not only from a sustainability standpoint but from an economic standpoint," she said.
"We are trying to educate the consumer," said Megan Meikeljohn, the sustainable materials and transparency manager at the clothing label Eileen Fisher, who was speaking at a seminar on sustainability and transparency in apparel. "We are talking more about the process and why we're selecting certain fibers. For example, linen is a rotational crop. To maintain that organic certification, all crops in between the linen crops also have to be organic," she explained.
While Eileen Fisher and outdoor apparel company Patagonia have successfully targeted consumers who will pay more for sustainably made clothing, some value-priced brands are also making strides. " Target has done a great job," she said. "They have a polyester policy, a wood-pulp policy and a cotton policy."
Jessica Kelly, founder and chief executive of the ethical fashion brokerage Thr3efold, an exhibitor in the Resource Row section of Texworld USA, also sees growing demand for ethical sourcing. "We work on connecting brands to ethical factories around the world," Kelly said. "Finding a [sustainable] factory overseas is like finding a needle in a haystack. We have relationships with factories that are certified and doing incredible work with wastewater management, chemical dyes and how they're treating their employees."
The embassy of Uzbekistan was another exhibitor on Resource Row. In recent years, Uzbekistan has drawn international criticism and boycotts for unethical labor practices in its cotton fields.
However, the country's new president, Shavkat Mirziyoyev, has moved to reform these practices as part of a broader push to strengthen economic ties to the West.
Recently, Uzbekistan increased its textile exports to the U.S. from approximately $600 million in 2011 to $1.2 billion in 2017.
More than a dozen U.S. organizations—some with foreign ownership—also exhibited at Texworld USA, most of them in the Resource Row section. Those included Arch Technologies, GTCNY and Buhler Quality Yarns.
Marty Moran, chief executive of Buhler, based in Jefferson, Ga., which was acquired last year by South Korea–based Samil Spinning, said that in spite of shifting global trade patterns, "It makes sense to spin yarn in the U.S."
He noted that California is a major producer of extra-long-stapleSupima cotton, so "you get access to the cotton. Energy rates, especially in the Southeast, are incredible. And yarn spinning doesn't require as much labor as other textile processes."
These advantages have attracted foreign investment from Canadian underwear manufacturer Gildan and Chinese textile manufacturer Keer, both of which built spinning mills in North Carolina.
Moran said the company's new owners, Samil, have a vision to do business in the Western hemisphere. "That is a very positive thing," he said.