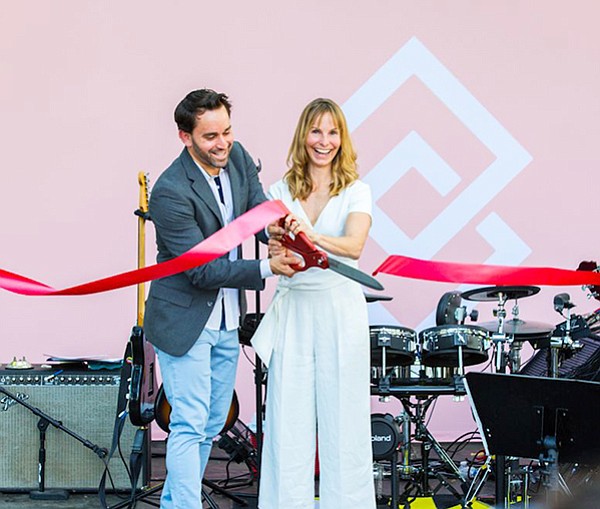 THIRDLOVE'S NEW SPACE
ThirdLove Opens New Center for a Competitive Edge
ThirdLove, the e-commerce lingerie label based in San Francisco, officially opened a 10,000-square-foot facility in Chico, Calif., about 90 minutes north of Sacramento, with the option to expand to 17,000 square feet.
The building, which is the workplace for 150 Fit Stylists, is painted a blush pink and has an added fun perk—a custom slide where people can glide from the building's first level to the ground level.
ThirdLove's Fit Stylists basically serve as the company's customer-service staff, said David Spector, the company's co-founder and co-chief executive officer, who expects there will be 300 Fit Stylists by the end of this year.
Through email, text, online chat and phone, they handle questions on sizing, fit, returns and other questions on the brand's products. They also help with placing orders.
"We want to provide exceptional customer experience to people," Spector said, noting that the Fit Stylists give the company a competitive edge. "The only way to do that is with our own team," the co-founder said.
ThirdLove's Fit Stylists have a deeper connection to the company than, say, someone who works in an overseas call center, Spector said. The majority of the brand's customers are American, and Spector said that many consumers feel more comfortable dealing with a native speaker.
Chico is the headquarters of Sierra Nevada Brewing Co. and the home to California State University, Chico, but Spector said it remains off the radar for many major companies. "We wanted a city we could substantially invest in when building a world-class office, above and beyond any other in California, and in a location that has a hard-working, humble and educated workforce," he said.
The ThirdLove facility is located near the Chico Municipal Airport, which is convenient for ThirdLove executives who often fly in from San Francisco for the day.
ThirdLove started business in 2013 with five employees. Spector started the business with his wife, Heidi Zak. Her résumé includes a gig as a senior marketing manager at Google. He worked as a partner for high-profile venture-capital firm Sequoia Capital.
Zak long believed that most women's bras were poorly sized. Her label makes bras with in-between sizes, similar to how shoemakers make half sizes for shoes.
Spector declined to give revenue numbers but said that in 2018, the company will grow by double digits compared to the previous year. Along with the Chico facility, the company runs an information technology/engineering facility in Argentina. The brand's products are manufactured in Asia.