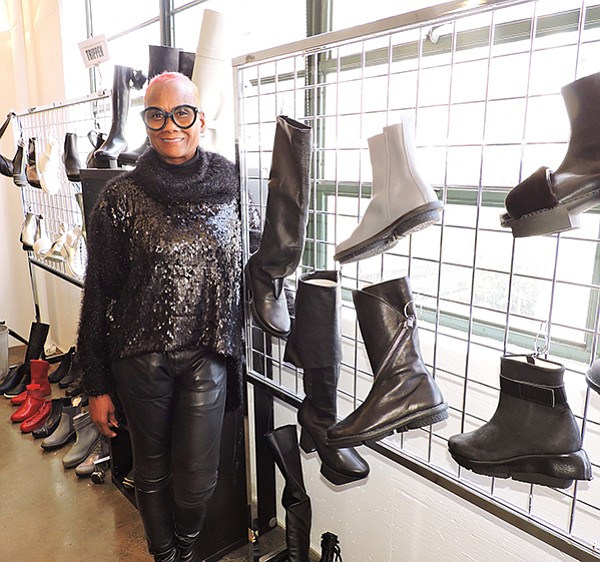 LA FASHION MARKET
LA Market Sees Showrooms and Stores Adjusting to the 'New Normal' in Retail
Buyers fanned out to the various showroom buildings in the Los Angeles Fashion District for the March 12–14 run of Los Angeles Fashion Market, which was highlighting the fashions for Fall/Winter 2018.
The market's three days of activity were punctuated by the arrival of President Donald Trump, whose entourage stayed at the InterContinental Hotel in downtown Los Angeles, creating a constant traffic jam that started Tuesday afternoon and ended Wednesday morning.
At this market, many showroom owners felt buyers were only visiting the brands they felt comfortable with and not exploring untested labels. Attendee traffic throughout the district was hit and miss, depending on the building and the showrooms as e-commerce takes a chunk out of sales that had once been allocated only to boutiques and stores.
At the California Market Center, traffic was slower than usual over the first few days. Doris Johnson, whose eponymous showroom is on the third floor, has been in the building for more than 30 years with her lines including Soulmates, Nina Field, Sunrise to Sunset and Rossi Roma. She noticed that traffic at this most recent market was less than in the past.
"It's a combination of things," said the showroom owner. "Our bricks-and-mortar people are suffering. They truly are. I've been here a long time, since '83, and we've lost a lot of our account base."
But there were some new retailers visiting the show. Julie Winter Havel, the owner of Bluetique, in New Hampton, Iowa, and the store's specialty buyer and merchandiser, Annie Lukes, arrived Tuesday but were a bit confused by the various buildings and felt new attendees would benefit from a clearer picture of the complex's layout. But by Wednesday morning, they were ready for business.
"Today will be our day to go back and revisit some of the things that we wrote down yesterday that we showed interest in," explained Lukes. "We are hoping to place a few orders, but that may turn into more as we are able to sit down with the vendors and talk more about the lines."
For temporary exhibitors, the CMC organized the Select x Emerge show in the penthouse, where traffic was still slow, but many manufacturers were optimistic. For eco-friendly clothing line PERI: Pure Eco Rag Industry, whose wholesale price points range from $38 to almost $100, remaining in touch with clients and anticipating customers' needs is the secret to generating orders.
"I do Spring and Fall at the same time just because we're LA, plus I can make it in six weeks," said owner and designer Peri Donch. "The orders are not small. I had, in the past when I was in my showroom, a $200 or $300 order and these are much bigger than that. I think the flexibility of my turnaround [attracts retailers]."
For San Diego–based Pura Vida Bracelets, whose wholesale prices range from $3 to $15, orders were being placed, but the amount of traffic did not meet expectations.
"We placed a few new orders, opened a few new accounts and saw one of our recurring accounts," said D.J. Hernandez, who is the wholesale account representative for the West Coast.
The New Mart sees activity
This year's Los Angeles Fashion Market seemed to be a success for the The New Mart with organizers reporting double the number of attendees for the first day of market, which for the building was Sun., March 11.
The rest of the week was busy too. "We have already beat the 2017 week's total number of attendees in just the first three days of this market," said Ashleigh Kaspszak, the building's assistant property manager.
At the Salt & Pepper showroom, store owner Chris Baumgartner was looking for unique pieces that would best represent the clientele of her Washington state–based boutique, Istina. While the showroom's Emmalena Bland reported consistent traffic, Baumgartner felt overall attendance was different than previous events.
"It seems slow compared to other shows," she said. "There is a whole new normal now. It's hard to compare because it's apples and oranges now, and we're doing really well. But I hear that people are closing."
At the Eileen Fisher showroom, Alexandra Brooks, the brand's team leader of specialty stores, explained that for Fall, the brand is going to focus on a particular pattern inspired by the company's core principles of empowering women.
"We're actually having a very successful show," she said. "We are introducing the Morse Code, and that is a print that we are offering in three styles. It is Morse Code for 'The Future Is Female."
With wholesale price points ranging from $78 to $348, Brooks said the brand was experiencing an increase in orders and early purchasing.
At accessories showroom M Group Showroom—which represents Kate Spade, Michael Kors, Calvin Klein and Timberland—Brett Morris had written a few orders but revealed that traffic might be down due to show exhaustion coupled with a shift toward the digitization of business practices.
"There are just a lot of shows in general," he said. "We're very tech savvy here, so a lot of the stuff we do is digital PowerPoint line sheets and we just email them out to everybody. It's not like back in the day when I would hop on a plane."
Despite an interest in Immediates for its accessories brands, such asAn Old Soul, the Rande Cohen Showroom had experienced a lot of traffic starting on the first day and saw retailers who were ready to move past the Summer season.
"We're in Fall. Some people are playing a little bit of catch up, doing April and May, but the focus is definitely on Fall," Rande Cohen said.
For Lola & Sophie owner and designer Gene Kagan, the Fall line was generating a lot of interest, as trends shifted from bright, striking color.
"Orange is selling out now," he said. "I think it [Fall] is about plaids and camouflage."
On the third floor of The New Mart, the 22-year-old Designers and Agents show took over as 83 collections were on display in an intimate setting that was created for more-independent designers. As co-owner Ed Mandelbaum explained, "We're not about quantity. We're about quality. It's all about creative integrity."
One exhibitor at the show was Transit, whose wholesale price points range from $118 to $800 for specialty items. Margaretha Silverman, a sales representative for the Italian label, said the show was very good if you don't sell to departments stores but sell to specialty stores.
Lost and Found, a line of premium basics manufactured from cotton jersey and cashmere, is in its second season. It was launched by Jamie Rosenthal, a retail veteran who wanted to fill a void in the market by designing quality hoodies, turtlenecks, sweatshirts, and long- and short-sleeved T-shirts.
Erica Trinder-Torre, who is the brand's showroom representative, said Rosenthal understands the formula of looking stylish without appearing overly formal.
"When you have a really great jacket and a really great skirt but you don't want to wear a blouse with it and you want a great T-shirt, what T-shirt do you wear that still looks really polished? It fits in well with some of your nicer clothes," she explained. "The show is really good. We're getting orders and revisiting a bunch of stores that we started with last season."
Visiting the show for the first time was Jazmyne Givens, who would like to open an online boutique in her hometown of Las Vegas but didn't know where to begin and thought D&A would provide a strong foundation for her vision. "I looked at some of the pictures online and it looked pretty interesting," she said. "Thought I should stop by and see if there is anything here that I would like to take into my inventory."
Increased activity at the Cooper
While different showrooms at the Cooper Design Space reported various levels of success, Israel Ramirez of the Siblings Showroom estimated that the show's buyer traffic was even with Los Angeles Fashion Market last year, but retailers were ordering more. "Retail has been on a growth trajectory," Ramirez said. "Confidence is back."
At the Focus Showroom, down the hall from Siblings, Sylvana Lankshear said the show started slowly on Monday morning, but by afternoon traffic had gotten busy enough to warrant staying until 8 p.m.
The second day of the show was one of the busiest working days in memory Lankshear said, and traffic was solid on the third day. Unlike past shows, Lankshear said that there were no retailers from Florida or the Northeast but mostly West Coast retailers.
The March market was a time for double duty for the Bandolier showroom. Adam Derry said there was a steady flow of traffic. "But this market became a bit less about foot traffic and more about direct follow-ups," he said.
Sometimes the March edition of LA Fashion Market is a bit difficult because it is scheduled a month after the sprawling Las Vegas trade shows. Fred Levine of the M.Fredric line of boutiques said he skipped the market because it was scheduled too close to the Las Vegas shows.
With little fanfare, the Trade Showroom opened in the building for the fashion market. Diana Oh, the showroom's owner, dove into the market, meeting with stores. Making appointments was key to her success, Oh said. "We had a good market, but there were not many walk-ins," she said.
On the 11th floor of the showroom building, the Brand Assembly trade show was celebrating its five years in Los Angeles with an event that wanted to bring emerging brands to a trade-show forum.
For the show's March 12–14 run, an estimated 20 percent of the vendors were new to the show, said Hillary France, the cofounder and chief executive officer of Brand Assembly. More than 50 percent of the brands exhibiting at the show returned to exhibit at the show, held on the Cooper's 11th floor. The 150 brands exhibiting at the show were about even with last year.
Retailers visiting the show included majors such as Saks, Nordstrom and leading Los Angeles–area boutiques such as Elyse Walker, Principessa, Polkadots & Moonbeams and Trina Turk.
Like most trade shows, vendors had varying degrees of success and experiences. For Ben De Luca, brand manager of Brooklyn Hat Co., the show was part of a wave of good business.
"There's a bit of life coming back to the fashion world," De Luca said. "The last couple of years have been slow. This show is good. People are buying again."
Before the recent trade-show season, buyers were looking to order only two or three pieces from each of the company's hat categories. This year, they are buying much deeper, De Luca said. Recent looks for the company included distressed fedoras with a burnt look.
Ty McBride of the Intentionally Blank brand reported good business. But he was dissatisfied with the trade-show model. "No one wants to pay $5,000 to sit. I'm rethinking my trade-show business," he said.
He said he will invest more in his brand's direct-to-consumer business, along with wholesaling to current accounts. On St. Patrick's Day weekend, he is scheduled to open a 1,100-square-foot Intentionally Blank boutique in San Francisco's Mission District. The formerly blue-collar and immigrant enclave is enjoying a spike of interest with chic restaurants and boutiques opening.
Wendy Freedman of Polkadots & Moonbeams shopped at the show. For trends, retro styles continue to reign over fashion. Despite Wall Street cheering the U.S. economy, she said business is no picnic for boutique retailers.
"The economy is really tough. Stores are really suffering. We have to work four times harder to stay in business," she said. "We're survivors because we have loyal customers."
Tried-and-true buyers at the Gerry Building
Showroom owners and exhibitors in the historic building with nine floors of showrooms and offices said they felt traffic was light at this most recent market, with only regular buyers showing up.
"We had a decent market, but the traffic is down," said Sarah Kirakossian of Arlene Henry Sales, whose lines include Staples USA, Lauren Vidal, Color 5 Power and Mezon.
Miriana Ojeda, who has an eponymous showroom on the seventh floor and organizes an auxiliary showroom during fashion market for temporary exhibitors, said she saw buyers she normally sells to but no new customers. "They wrote but nothing beyond that," she said, noting she did better at the Curate International Collection in February in New York than at this market.
At one of the two showrooms occupied by temporary exhibitors, business was fairly lackluster. Chad Patton, the La Jolla, Calif.–based distributor of Nuno, a clothing line made by a well-known Japanese textile maker, said he had seen no more than 10 buyers in nearly four days. "It is definitely slow," he said. "People are going to the brands they were successful with and not to new brands."
Also showing in the same temporary showroom space was New York–based Arlean Gall, distributor for the avant-garde German footwear line Trippen. "Last market was very strong for us. We picked up a lot of new stores," she said, noting that this market was surprisingly slow. "Right now, we have to find new, creative ways to reach new customers."
But store buyers were wandering through the Gerry Building and writing paper. Laura McGuire—the buyer for Wendy Foster, a decades-old small chain of California specialty stores in Santa Barbara, Montecito and Los Olivos—was placing orders at the P. Taylor Clothing booth, a company in Pasadena, Calif., specializing in chic oversized women's shirts made of luxury fabrics.
McGuire said retailers are adjusting to "the new normal," but customers are still buying. "We have been in business for 50 years, and our customers want something special they don't already have," she said. "They want new things that are well made."