RETAIL
Nordstrom Rack Headed to New Porter Ranch Mall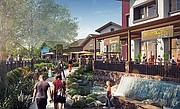 A Nordstrom Rack will be coming to The Vineyards, a shopping center under construction in Porter Ranch, which is nestled in the northwest section of Los Angeles' San Fernando Valley.
Shapell Liberty Investment Properties has been developing the $150 million mixed-use center by the Ronald Reagan Freeway. Developers broke ground on the project in 2017, with completion slated for early 2019.
Other tenants confirmed for The Vineyards include AMC Theaters, a Whole Foods market and beauty shop Ulta Beauty Inc.
The layout of the center will include a Main Street and a central green area. Sustainability also will be a focus of the retail center, which will have solar panels as well as a rainwater capture and reuse system.
A residential section is scheduled to be completed in 2020, which will include a 110-room hotel and a 266-unit apartment complex, said John Love, a vice president for Shapell Properties Inc.
The project is a partnership between Shapell and Liberty Building Co. "We're beginning to realize a vision for bringing together an exceptional mix of shopping, food and beverage experiences, entertainment, residential living, and professional medical offices," he said.
The project will include a Kaiser Permanente medical office building scheduled to open in early 2019.