RETAIL
Wet Seal Back With New Fashion Line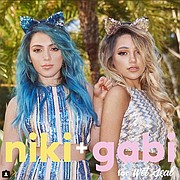 Almost one year after juniors retailer Wet Seal was acquired by investment firm Gordon Brothers, the now online-only retailer announced a new collaboration called Niki + Gabi for Wet Seal.
It's the retailer's first new fashion line in a year, said Ramez Toubassy, the president of both Wet Seal and the Gordon Brothers Brands.
The line is a collaboration with YouTube stars Niki and Gabi DeMartino, 23-year-old twins who claim to have 6.6 million YouTube subscribers. The collection will include everything from accessories and tops to dresses. Core retail price points range from $15 to $35.
"It's amazing how much impact they have on social media," Toubassy said. He said the DeMartino sisters, who were involved in the collection's design, grew up wearing Wet Seal.
The sisters' videos include "Niki & Gabi Take New York," where they chronicle their lives as YouTube stars spending time in New York and Los Angeles, all while trying to maintain their busy social lives. Other shows cover hauls, or videos documenting items picked up on a shopping expedition.
Blogger fashion is a big deal at Wet Seal. The retailer's Instagram features pictures of other bloggers, including London Ellis and Maddy Corbin, modeling Wet Seal fashions.
Wet Seal is a pure play—or online-only—venture. "We are spending a lot of time building an amazing user experience on the web," Toubassy said. "On the horizon, we'd like to do bricks-and-mortar retail, but we want to do it in a creative and flexible way. It would be something to replicate the ultra-fast fashion experience online. We're dropping 100 new styles on the web ever week. Our customer likes the entertainment value of newness. We are in the early stages of bringing that experience."
Wet Seal's e-commerce transformation is something of a rebound for the once prominent Southern California retailer. About five years ago, Wet Seal seemed to have a store in almost every U.S. mall with 464 stores in its Wet Seal division and 62 stores in its more contemporary Arden B division, which closed in 2014.
In January 2017, Wet Seal announced it would close all its physical stores. Months later, Gordon Brothers acquired Wet Seal's intellectual property for $3 million.