RETAIL
Beverly Center's $500-Million Remodel Brings In More Fashion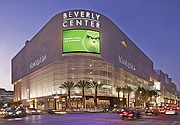 The wrap-up of a $500-million remodel of the Beverly Center paved the way to usher in a new slate of high-profile boutiques inside the Los Angeles mall, which serves the fashion-savvy neighborhoods of West Hollywood and Beverly Hills.
Taking over a spot once occupied by the Hard Rock Cafe in the 1980s and later Bed Bath and Beyond, the multi-brand emporium The Webster will open an 11,000-square-foot flagship at the shopping center in 2020.
Luxury-inspired Los Angeles brand PRSVR (Passion. Resilience. Sacrifice. Values. Respect.) will open its first Los Angeles shop at the Beverly Center in 2019.
Relocating from its 20,000-square-foot store on Rodeo Drive in Beverly Hills is the longstanding brand Brooks Brothers, which will open a 3,170-square-foot shop in the Beverly Center before Christmas.
Before the official unveiling of the remodel on Nov. 2, Beverly Center had already welcomed a number of new boutiques including APM Monaco, Balenciaga, G-Star Raw and Polo Ralph Lauren. Also opening this year were multi-brand retailers Hayden Girls, a children's clothier, and the design boutique The Celect. In May, Zara opened a mammoth 28,300-square-foot outpost, which is its largest location in Los Angeles.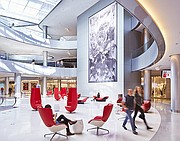 The Beverly Center will continue to offer one of the more extensive selections of boutiques from European fashion houses in a mall setting. A slate of more than 14 Euro-centric boutiques includes Versace, which relocated to a 2,200-square-foot space in September, as well as Prada, Dolce & Gabbana, Fendi, Salvatore Ferragamo, Saint Laurent, Louis Vuitton and Gucci.
Earlier this year, multi-line design retailer Traffic Los Angeles unveiled an extensive remodel and expansion of its 6,000-square-foot store.
The mall's anchor stores remain Macy's and Bloomingdale's.
Bernard G. Jacobs, a stylist who has spent years working in the Los Angeles area, said the Beverly Center is unique for its selection of high-end boutiques.
"Is Beverly Center's selection of designer boutiques more thorough than most malls? Yes. You won't find as many high-end stores in a mall, or at all," he said.
He also liked that there are retailers offering clothes at mid and low price points. Beverly Center's retailer mix includes XXI Forever, a nameplate owned by the fast-fashion giant Forever 21, whose average retail price points are between $20 and $40.
Bill Taubman, chief operating officer of Taubman Centers, the real-estate investment trust in Bloomfield Hills, Mich., that owns the Beverly Center, said offering a wide array of retailers was crucial. "[The customer] goes to Zara and buys a T-shirt. She goes to Prada and buys a pair of shoes. It's not what it used to be where my mother would walk into Chanel and buy an entire outfit," Taubman said.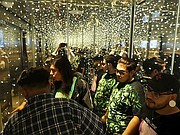 Fashion was not the only concern of the remodel, Taubman said. "We wanted to focus on every aspect of the consumer experience. We focused specifically on the things that they didn't like. They didn't like the food. They told us that they thought our food was the worst on the market. That was a huge focus that you'll see in the redevelopment," he said.
The mall's 1980s-style food court is long gone. It was replaced by chef-driven, sit-down restaurants such as Cal Mare, which opened in December 2017. Also new are the high-end farm-to-table restaurant Farmhouse Los Angeles and Yardbird Southern Table & Bar.
New fast-casual restaurants include Marugame Udon, downtown Los Angeles' Pitchoun! Bakery & Café and Eggslut. On weekends, diners brave 90-minute waits for Eggslut sandwiches at its downtown Los Angeles location at the Grand Central Market. All-day breakfast place Easy's opened at the revamped mall last month. Several more cafés and fast-casual places are scheduled to open.
Many of the new restaurants are located on the street level of La Cienega Boulevard to bring life to a block empty before redevelopment, said Ron Loch, a Taubman vice president of planning and design.
Architectural touches
The 886,000-square-foot mall was redesigned by Studio Fuksas, the Rome-based architectural firm that designed a "skylight ribbon," which is a 25,000-square-foot curving glass ribbon embedded in the mall's ceiling to bring in more sunlight. Parts of the shopping center's walls were taken out and replaced with windows for additional light and a better view of Los Angeles and West Hollywood.
The increased natural light will attract more people, said Michael Dovan, founder and co-owner of Traffic Los Angeles. "It's warmer. The sun is coming in," he said.
Traffic Los Angeles is the mall's oldest tenant, having been there since 1984. Historically the mall attracted people from neighboring enclaves of West Hollywood, Beverly Hills and Los Angeles' mid-city areas.
Traditionally, a significant amount of business at the mall has come from entertainment-industry people as well as international tourists. Dovan forecasted the remodel will attract even more shoppers.
Parts of the mall's exterior are covered with a metal-mesh façade, which is a backdrop to a programmable LED lighting system. When the L.A. Dodgers played in the 2018 World Series, the lighting system cast a Dodger-blue light, which reportedly could be seen miles away. Escalator areas will feature murals from artists.
The mall's central area is the remodeled Grand Court, which features a giant, billboard-sized LED screen flashing advertisements and announcements, and red chairs have been arranged where people can lounge.
Other perks include seating areas around the mall equipped with charging areas for phones, and a new smart parking system offers an easier, more efficient parking experience, Taubman said.