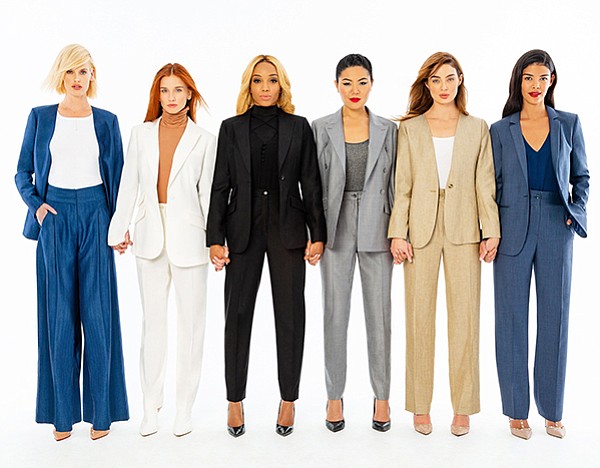 SMART WOMEN'S SUITING
SuitKits: Bringing Women's Suits Up-to-Measure
Casual Friday did not kill the women's suit, said attorney and entrepreneur Sierra Elizabeth, who goes by the name Sierra E.
She's gambling there's a lot more growth for the women's suits category.
The attorney recently formally launched SuitKits by Sierra E in Los Angeles with the mission to make made-to-measure suits for women. The women's suit is important for the sake of fashion and to make a statement about a woman's place in an office.
Women are judged by how they fit in with suit-clad men in the workplace, the entrepreneur said. This scenario is familiar to Sierra E, who also serves as a partner for the law firm Kirkland & Ellis LLP.
But sizing options are often lacking in the women's-suiting category because availability can be spotty at major retailers for petite and plus-size women, she said. "Due to a lack of options, some women have opted out of wearing a suit even when it is clearly required," Sierra E said. "It makes them appear unprepared or lacking in self-discipline."
"Others, who are just uncomfortable in their suits, come across as nervous or lacking confidence. Sadly, I've seen firsthand how both scenarios prevent women from getting jobs for which they are otherwise qualified," she added.
After more than a decade of shopping for women's suits, and not being satisfied, Sierra E decided she would have to take sartorial matters into her own hands. She privately funded the made-to-measure company and is currently seeking a round of funding to further finance growth.
Right now, SuitKits will conduct business as an Internet-only, pure-play retailer. It currently enlists the help of human tailors to take women's measurements for the suits. Eventually, SuitKits will use proprietary technology, which will map out women's measurements and build wardrobes through a measurement app.
Men's suiting labels Combatant Gentlemen and Sene, both based in California, also use a similar tech-enabled business model. Men register their measurements online and a suit is made based on the tech-enabled measurements. Internet-based lingerie companies such as TrueFit build bras out of taking clients' measurements through a proprietary technology.
SuitKits is currently manufactured in China and Mexico, but Sierra E hopes to produce some of her company's clothes in the United States. Sizes currently range from 0 to 2X. Eventually, Sierra E plans to expand her brand's sizing to accommodate any size.
The new company will not be making a female version of the boxy Wall Street suit, which seems to be a staple at law firms and accounting offices across the U.S. SuitKits tailors blazers and trousers to follow a woman's curves.
The company offers three categories. There's the Business Professional, which is the core of the company's sartorial statement. There is also the Business Casual, which offers more color ways than the standard black, gray and blue and is available in more silhouettes, such as wide-legged palazzo pants.
Then there's the Fashion Forward, which aspires to red-carpet looks or women's suits for a wedding. Retail price points start at $399 for the Business Casual, $499 for the Business Professional and $599 for the Fashion Forward.
The company will expand its categories to include dresses and skirts. In case the customer wants to wear a sleeveless shirt to work, the label currently offers accessories such as sweat guards, which are cotton inserts that can be snapped into a jacket to protect from perspiration.
Philanthropy also will be a concern of the company. Through its Sierra E SuitKits for Scholars Program, the company provides free business suits to low-income and underprivileged students. Also, if women volunteer for nonprofits that help women in need, they can earn points for suit discounts.