TRADE SHOWS
Informa Exhibitions Appoints Mark Temple-Smith as Managing Director of Fashion Exhibitions Business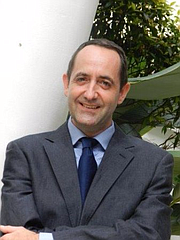 Informa Exhibitions has appointed Mark Temple-Smith to the managing director role of its fashion exhibitions business, a segment that includes WWDMAGIC, Coterie, Project and Project Womens. The news follows the acquisition of UBM by business-to-business information services provider Informa PLC.
Included in Temple-Smith's 20-year career are roles such as chief executive officer, Asia for Tarsus Group and managing director, Asia for ITE Group plc, where he expanded the company's Asian business from a start-up to some 50 exhibitions and more than 400 colleagues. Prior to his new appointment, Temple-Smith served as Informa Exhibitions' commercial director where he managed new growth initiatives for the Europe, the Middle East, Africa and the Americas businesses.
"We are pleased to have Mark take on this essential role as we focus on rolling out such an initiative so important to the fashion marketplace and dedicating the right resources–management, technology and branding–to supporting our customers' success," Informa Exhibitions Chief Executive Officer Charlie McCurdy said in a statement. "We believe the combination of Informa's global approach to B2B [business-to-business] events marketing and our customer-first focus, with UBM's history and strength in fashion particularly in the US and Asia, is a powerful engine for growth in the fashion events market."
As managing director of Informa Exhibitions fashion exhibitions business, Temple-Smith will lead the company through its previously announced three-year plan for new investments and show experience. The initiative includes plans to enhance marketing, content, digital and customer service to facilitate exhibitor and attendee connections, leads, opportunities to showcase products, growth and business success through experiences in person and online.
"Fashion is a highly international, increasingly digital and fast-changing market," Temple-Smith said. "I'm looking forward to enhancing our brands and platforms, and working closely with our customers to understand and find solutions to their business needs and support their year-round marketing priorities."
While discussing his new position, Temple-Smith expressed the potential for the company's growth within the fashion-events segment.
"In taking on this role, I will be working with a strong team that has extensive knowledge and experience in the areas of branding and marketing in the fashion-events space," he said. "Our fashion group serves the needs of the $1 trillion global fashion industry through 21 show brands across seven marketplaces that cover all major fashion categories, and we will continue to focus on strengthening our relationships with the industry's global community of brands and retailers."
Regarding the departure of former managing director Mike Alic, the company released a statement saying, "Mike Alic has decided to step down from his position as managing director to pursue new interests after 14 successful years of contributions to the leadership and growth of Advanstar and UBM Fashion. Ultimately, we agree and support his decision."