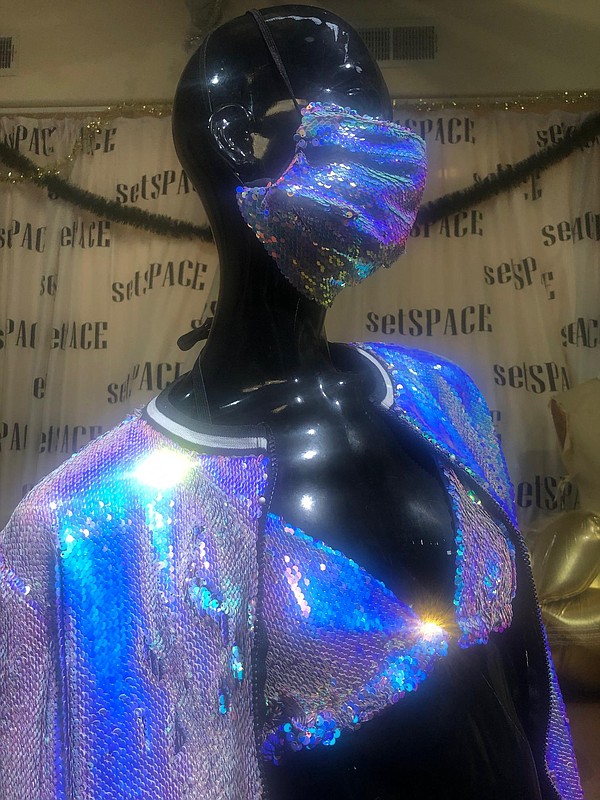 FASHION
Maggie Barry's COVID Couture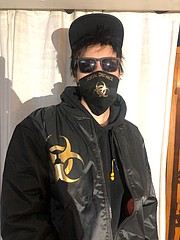 Pundits have been trying to figure what a post-COVID-19 world would look like, and Los Angeles designer Maggie Barry has spent the past six weeks figuring out how the crisis will change fashion.
Barry, whose career spans costume design to making stage clothes for entertainers such as Katy Perry and Nicki Minaj, as well as designing streetwear, recently displayed her fashion forecast on her Instagram profile, @maggiebarryfashion. She called it "COVID Couture." Consider it fashion based on the styles of a nonmedical face mask.
"Having a mask is as important as having shoes," Barry said. "You wouldn't leave your house without your shoes."
She started the COVID Couture styles with face masks. Later, she matched them to swimwear, track suits and flight jackets. She got the idea to match masks to different clothing styles after her union, the Costume Designers Guild Local 892, started a campaign in March to make nonmedical face masks.
The fabrics in Barry's downtown Los Angeles atelier were geared toward looks that her show-business and festival clients would wear such as elegant styles that include sequins. She matched sequined masks with sequined bikinis and track suits.
She also took the fearsome-looking international biohazard symbol and put it on a mask. A print of the biohazard symbol is also on the back of a black flight jacket. Retail price points are $10 for sequin masks, $75 for bikinis and $350 for flight jackets. Other styles include placing slogans on the masks such as "social distance." Barry has been selling her COVID Couture on her Instagram profile. She is scheduled to sell the line on an upcoming Etsy shop that will be named SetSpaceLA. Barry also has donated 300 masks to women working in hospitals.
Barry sees a lot of use for her style of masks, even if people are not dressing up during the pandemic. "People are looking for creative ways to express themselves," she said. "People are going to need options. This will be a fun accessory to uplift you."
The masks, which come in different sizes, feature a 100 percent cotton layer that is next to the wearer's face, affording easier breathability, she said. Outer layers feature sequins, leather or fabrics from designer handbags. The face coverings also feature pockets to insert air filters.
Barry's COVID Couture masks also offer another point of difference because they fit differently than many other masks on the market, she said. Elastic from Barry's masks fit over the back of the head and the neck, like a bandanna. Other masks feature elastic that fits over the ears.
Barry said that her design covers more area than other masks. She also said that they won't slip off. One mask style is shaped like a cup. Barry describes it as being fitted around the face. "You can dance with it and it won't fall off," she guaranteed.
The dance experience is crucial to her mask design. Her COVID Couture masks are inspired by her clients who have traveled to the annual Burning Man festival, which is located in the desert in northwest Nevada. The festival is as famous for its dust storms as its parties and outrageous costumes.
On June 1, Barry is scheduled to host a 30-look virtual fashion show on Instagram Live. She promised that models from every shape and size will appear in the virtual show.
"They are real people. Some will be actresses. Some will be singers," she said. During the show, they'll open a box of Maggie Barry fashions sent to them prior to the event. Barry said that she will give the models a virtual styling session during the virtual show.
As the crisis hopefully declines, she will continue to add more styles to the line. She is working on a collaboration with New York designer Stacy Kessler. Barry will make a mask from the fabric used to make Kessler's handbags, which will be attached to the matching handbags