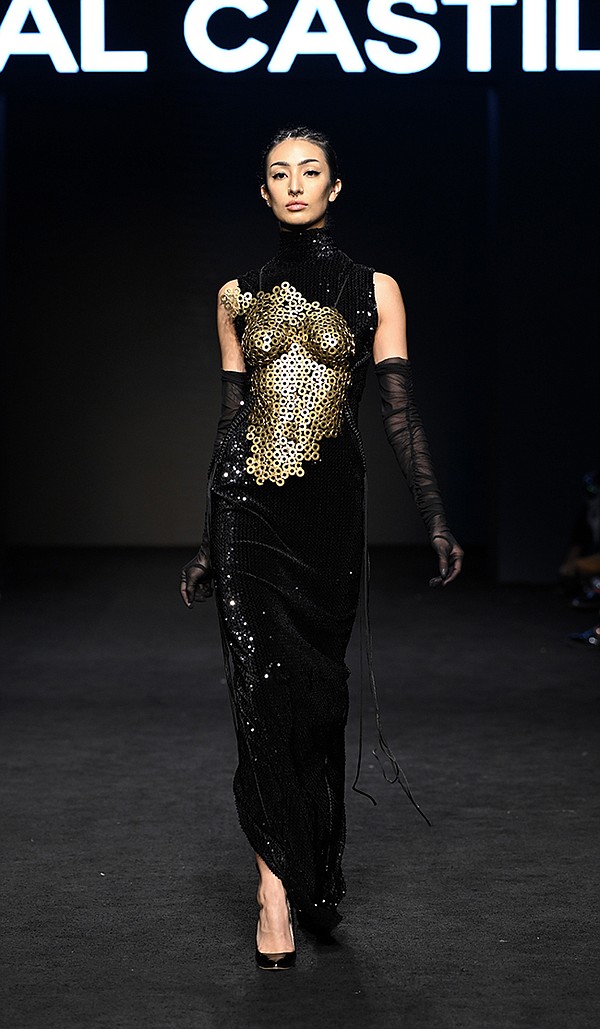 FASHION'S ROOTS
Art Hearts Fashion Honors L.A. Fashion's Roots and Supports Its Future
Photo Gallery
Art Hearts Fashion Honors L.A. Fashion's Roots and Supports Its Future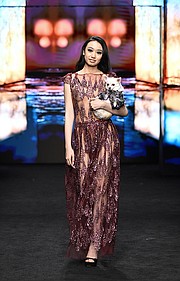 Photos by Arun Nevader / Getty Images
During its March 16–19 run at The Majestic Downtown, Art Hearts Fashion welcomed fresh design voices to the Los Angeles Fashion Week runway while honoring veteran designers. Art Hearts Fashion featured influential designers and brands including Original Penguin and Walter Mendez, but on March 18 the show introduced avant-garde pieces from students at Riverside County, Calif.'s Idyllwild Arts Academy.
The collection, titled "Gut," highlighted the beauty of human anatomy. According to Art Hearts Fashion, the student designers sought to illustrate a message of "our bodies are beautiful" through a presentation of designs representing different organs that are often overlooked or only examined through educational materials such as diagrams and textbooks.
"AHF solidified its reign on the fashion industry by hosting its largest production to date in Los Angeles," said Art Hearts Fashion founder Erik Rosete. "The event included the debut of the Idyllwild Arts Academy, which featured fashion students taught by 'Project Runway' winner Kentaro Kameyama. Additionally, Cross Colours celebrated its revival with us."
Cross Colours founders and veteran designers Carl Jones and TJ Walker remained true to the brand's roots with inspiration stemming from their late 1980s streetwear vision. The pair also celebrated the milestone 50th anniversary of hip-hop, which has maintained its status as a major fashion influence since its emergence in the 1970s.
In addition to Cross Colours, Idyllwild Arts Academy and Kentaro Kameyama, Art Hearts Fashion also featured California-based designers and brands Kenneth Barlis, Coral Castillo, Mister Triple X, Milla Stone and Walter Mendez.
Each season, Art Hearts Fashion provides an opportunity to celebrate artistic expression at the intersection of fine art and fashion design, but during this edition Rosete had much more to celebrate. On March 17, the City of Los Angeles presented an award of recognition to the Art Hearts Fashion founder for his contributions to the local community.