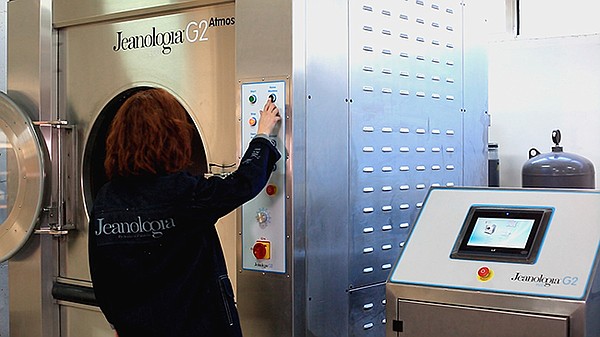 DENIM
Jeanologia Aspires to Make the Most Sustainable Jeans
Water may be the most plentiful substance on earth, but as most of it is seawater, the life-giving liquid remains a precious commodity. Reducing its consumption in garment finishing is the key mission of Jeanologia, a Spain-based leader in sustainable technology that can reduce water usage in garment finishing to 1 percent of the amount used in conventional methods.
The textile industry's "crimes" are not just crimes against fashion. It is one of the most water-consuming, wastewater-producing and polluting of industries. Jeanologia is highlighting the need to convert production centers into eco-efficient plants promoting sustainability and a circular economy.
"We are facing a water crisis, and as an industry we have the responsibility to produce using the least resources and eliminate waste," said Carmen Silla, Jeanologia's marketing director. "Sustainability is not a question of marketing, it is an obligation for everyone." Water is a key point in the SDGs (Sustainable Development Goals) and future regulatory framework of the textile industry, she added, and warned that "whoever does not take sustainability into account will be out of the market."
Technology can help align the often-competing interests of profit, people and planet. Originally founded in 1994, Jeanologia is presently spearheading what it calls the textile industry's greatest challenge—achieving total "dehydration" and "detoxification" in the denim world. With Jeanologia's technologies, manufacturers reduce water consumption in the finishing of garments from 100 liters to just 1. Its revolutionary G2 Ozone air-washing machine achieves vintage looks and stonewash effects without the use of water, chemicals or pumice. In addition, Jeanologia's eFlow technology uses nano bubbles to transport chemicals to the garment instead of using water, thus making zero discharge possible along with minimal water usage.
Silla also pointed out the need to constantly measure the environmental impact in the textile industry with EIM software, an industry standard that sets the roadmap toward lower water consumption and more-sustainable processes, promoting continuous improvement in garment finishing. "Our aspiration is to join forces with all industry players," said Silla, "and transform blue jeans into the most sustainable garment in the history of humanity."