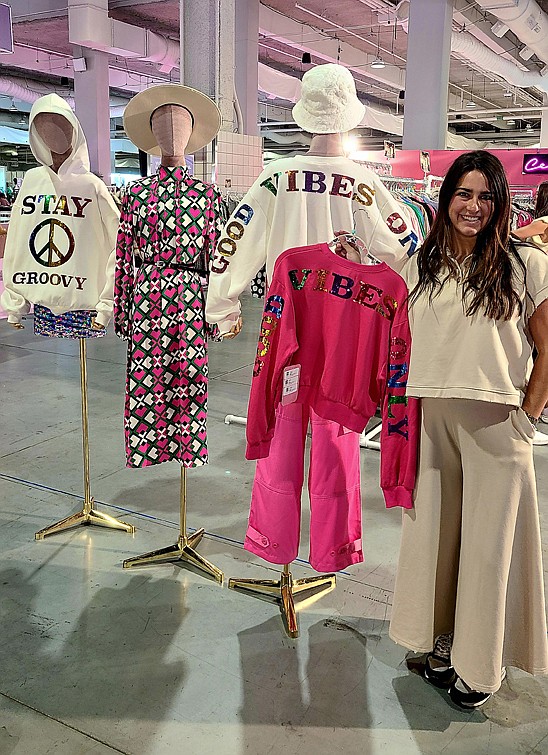 TRADE SHOWS
It Was Time to Shine at Las Vegas Apparel
The young contemporary market has given dopamine dressing a moment where we see vibrant color, playful prints and lots of shine. At Las Vegas Apparel, held Aug. 6–9 at the Expo at World Market Center, lots of excitement was felt with buyers responding to all that glitters, and L.A. exhibitors took the spotlight.
Darcie Reeping, senior director of merchandising for the Apricot Lane boutiques based in Vacaville, Calif., was shopping for both Holiday and Spring. "I am looking for the best versions of key trends like metallics and cargos. There's a lot to see."
J.NNA was on point with its take on dressed-down glam. Its rhinestone mesh tops priced at $29 and sequin pull-on skirts at $17.98 were hot items. There was more glitter at L Love with lots of sequins in skinnies, dresses and rompers. Plush sweaters with paillettes ranged from $14.88 to $23.88. At Ces Femme, sequin and iridescent logo sweatshirts priced at $20.50 and satin cargos at $18.95 were strong.
At Timing's, game-day sequin football jerseys were on the must-have list for Cheryl Potter, owner of My BackPorch Boutique in Columbia, Mo. "We were looking for glam versions of sports for our customers, and we love this one."
L.A.–based brand Artemis was a first-time exhibitor at the show. Its denim collection is sized 1–20 with rhinestone-fringed jeans ranging from $17 to $25.
Celeste from Los Angeles was also showing at LVA for the first time. Its strong pattern mixing is key to the line. This female-owned business has put a great twist on the basics. Tops were priced at $10–$16.
"The August edition of Las Vegas Apparel was a success with buyers and brands reporting quality connections, large orders and unbeatable hospitality," said Caron Stover, ANDMORE SVP, apparel. "Our announcement about our new co-location with WWIN generated excitement and created quite a buzz during LV Fashion Week."