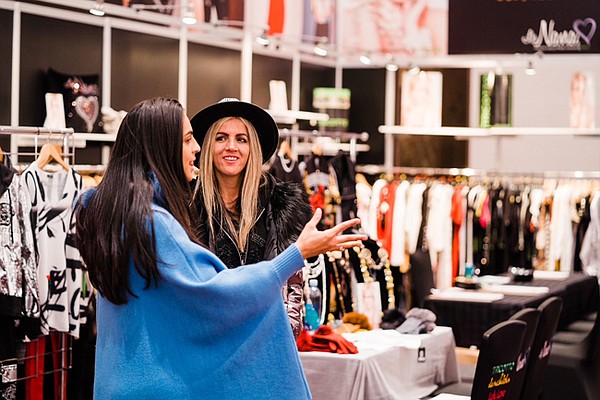 TRADE SHOWS
It's a WWIN Win for Womenswear in Nevada
Womenswear in Nevada at Caesars Palace marked its last edition at that venue as it is set to co-locate with Las Vegas Apparel at the Expo at World Market Center Las Vegas in February. The atmosphere was spirited as new exhibitors joined well-established brands.
Jennifer Mcray from Kismet in Los Gatos, Calif., is a regular at the show. "This is a great place to do business. So many of my regular lines are here. I am definitely excited to shop their new location in February."
At ADORE, L.A. owner Sam Far explained the new collection as "a fresh take on our best-selling pieced jean-jacket body." Ranging in lengths, the line is priced at $65–$79 with maxis at $99. Brand new for the brand are vests starting at $49.
Eternelle out of Montreal has gone through a rebranding as a chic collection with a European flavor. The Coconut and Vanilla groups mixed a soft, neutral palette into basket- and ribbon-weave sweaters priced at $43.50. According to designer Maggie Medalsy, "These are the next trend beyond crochets."
Sterling Styles of Fullerton, Calif., works with the beautiful prints of India. Owner Reshma Rustomi, who bought the label a year ago, explained, "I have been working on making the line bolder, brighter. I pick out prints that say 'look at me!'" The one-size-fits-all tops, priced at $42–$45, are completely reversible back to front and inside out.
At Lola P. in Phoenix, Ariz., "the bohemian woman" was the vibe. Rayon challis exclusive prints were in easy, peasant-bias-cut skirts priced at $16–18.50, with handkerchief hem dresses at $23. Misses sizes were available up to 3X.
"The atmosphere was exciting as collections were presented, new connections were made, and business was happening," said Melissa K. Montes, vice president of WWIN. "We are looking forward to our new home, where we will provide the elevated experience our retailers have come to expect."