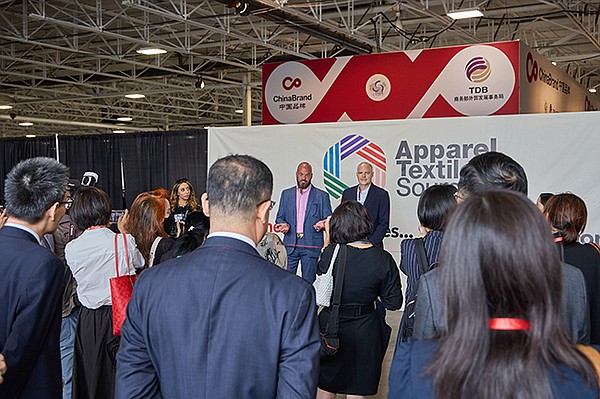 TRADE SHOWS
ATSC Draws a Diversity of Exhibitors and Buyers to Eighth Edition
The Apparel Textile Sourcing Canada show took place Aug. 21–23 in Toronto, and one thing was certain: There was much more on view than the proverbial "Canadian tuxedo," otherwise known as jeans with a denim jacket.
The eighth edition of the show welcomed over 200 manufacturers from more than a dozen countries and regions as well as 2,000 visitors comprising sourcing professionals, domestic and international government officials, buyers, business owners, CEOs, designers, and more. Some 120 factories came direct from China, marking their first significant return to Canada since pre-pandemic 2019. The most notable Chinese group, Brand China, hosted a large pavilion and sponsored the ATSC 2023 Fashion Show.
"The show very much took us by surprise," said ATSC CEO Jason Prescott. "The halls were simply packed all three days of the show. Having our exhibitors from China and other regions at the show made a big difference."
Over the duration of the show, the uniquely Canadian event provided more than 15 seminars, panel discussions, a fashion show, and keynotes from domestic and international industry leaders, directed to the Canadian audience. Sustainability and human rights took center stage.
TESTEX CEO Rainier Roten flew in from Zurich to discuss "How to Tackle Due Diligence Requirements Today and in the Future," while WRAP CEO Avedis Seferian came from Washington, D.C., to speak on "Avoiding Audit Fatigue in an Era of Enhanced Social-Compliance Scrutiny." Closer to home, the Canadian Apparel Federation's Bob Kirke provided his "State of the Industry" speech for the eighth year in a row, focusing his talk on the industry's key issues for 2024.
One of the most popular country exhibits was from Ukraine. Ukrainian Vadim Rogovskiy, CEO and co-founder of 3DLOOK, delivered the keynote speech "Rebels in Tech and Battlefield: How Ukrainian Companies Keep Conquering the Global Tech Scene" in which he discussed his team working out of bomb shelters along the way to creating the next big innovation in the apparel industry.