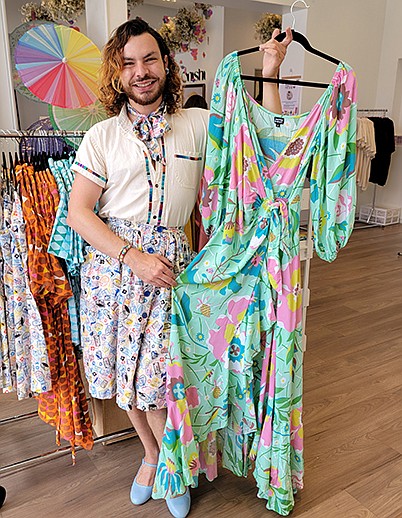 BRIMMING WITH PRIDE
Santa Monica Place Brims With Pride
In honor of SaMo PRIDE month, Santa Monica Place opened its second annual Made With Pride Marketplace Pop-up. The boutique kicked off in Santa Monica, Calif., June 2 with a ribbon cutting to showcase 20 handpicked LGBTQIA+-owned brands not normally found in a traditional retail setting.
Hosted in partnership with Streetlet, an opportunity-matching and growth engine for small business owners and makers, the event provides unique products and services with a platform to share their stories, talents and creativity with a wider audience.
This experience means everything to Japan-born Taka Onishi, who created the L.A.-based Onishi. "I wanted to make a silky, breathable underwear line" said Onishi, who uses a blend of modal and spandex. The inside label reads, "Have a nice day, sexy."
Creating L.A.-based Fab Hatters was life changing for owner Fang, whose doctors had told her that she was going blind. Fang then took a trip around the world, stapled and glued souvenirs to her hat, and after receiving so many compliments created a whimsical line of unconventional fascinator hats inspired by drag queens and pop surrealism. "If it wasn't for drag and drag queens, my life would be completely different. Who knows, I might still be blind," said Fang, whose profits paid for nine experimental eye surgeries. Celebrities such as Katy Perry and Royalty are known to wear Fab Hatters.
Zimbabwe-born Shongee blended her love of Barbie with her African roots to design a whole unisex look from clothing to hand-beaded, weighted hats, jewelry and eyewear. "I feel comfort is confidence, and everyone should feel as comfortable and unique as they are," said Shongee.
L.A.-based Dapper Day demonstrates its love of vintage clothing with show-stopping pieces to "step out in style." "It's uplifting to be part of something that's so visual because they're [Santa Monica Place] not afraid to put us on display," said Dapper Day designer Shawn Rios, whose pronouns are They, Them.
The Pride Marketplace Pop-up will be open each Friday, Saturday and Sunday in June.