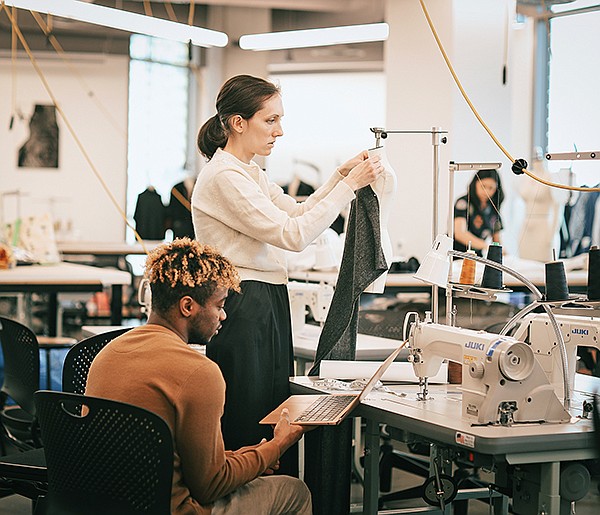 EDUCATION
ASU-FIDM Integration Blends Innovation With Deep Fashion Roots
Two powerhouse institutions of higher learning—Arizona State University in Phoenix and the Fashion Institute of Design & Merchandising in downtown Los Angeles—have joined forces through ASU's integration of FIDM to afford greater opportunities to apparel and fashion students. This integration allows the schools to align their support of students through ASU's innovation and exposure to FIDM's rich fashion legacy. Through the new integration between the schools, which was unveiled in April, ASU's fashion program has been renamed ASU FIDM, and FIDM will remain a separate entity.
FIDM now has a place among ASU's creative concentrations offered by the Herberger Institute for Design and the Arts, which had already expanded with the school's renovation of the Herald Examiner building in downtown Los Angeles. This historic building was updated to accommodate the latest and emerging technologies that support student excellence in the cultural and creative fields.
Innovation aligns with a fashion legacy
Since its 2017 launch, the fashion program at ASU has been led by Director of Fashion Dennita Sewell. Its program offers a Bachelor of Arts degree in fashion that supports an enriching catalog of courses that cultivate skills in areas such as patternmaking, digital patternmaking, technical design, garment construction, merchandising, supply-chain management, retail management and branding.
"The philosophy behind our program is bridging in a research university and all the things that ASU as a school focused on innovation brings to a concept of a fashion program, but also it was very important to me from the beginning that our students have a connection to industry," Sewell said. "I didn't want to start the program unless I thought they could get jobs."
FIDM's legacy is rooted in a 54-year history that began in 1969 when the institute's current Chief Executive Officer and President Toni Hohberg opened the school in the Los Angeles Fashion District, which affords access to the world's entertainment capital and the influence of Hollywood. The region has grown from its glamorous roots to also serve as a center of additional categories such as swim and surf, streetwear, vegan fashion and sustainability.
"We are the capital of streetwear and athleisurewear. It gives all the students an opportunity to explore that part of the world and all of the emerging brands, and people who are doing multi-brand, which is really exciting," said Barbara Bundy, FIDM's vice president of education.
Expanding educational opportunities
To ensure the ASU program would position students to grow into professionals who embody skill sets that are attractive to apparel-industry employers while also arming them with the tools necessary to forge their own paths, Sewell sought the guidance of trusted industry institutions. It is ASU's spirit of working with legacy organizations that have deep roots within the industry that made its FIDM integration a solid next step in its fashion expansion.
"One of the first things I did was go to CFDA [Council of Fashion Designers of America] and talk to them about the industry directions that they saw. Then, we had 90 students in the first year. We had 270 by the following year," explained Sewell, who now leads a program that reported more than 500 students majoring or minoring in fashion by spring 2023. "It was a tsunami response with students transferring from all different types of programs because it was what they wanted to do in the first place."
In addition to ASU's resources to ensure students remain at the forefront of innovation that will shape the fashion and apparel industries, the school is a recipient of a grant stemming from Arizona's New Economy Initiative. According to Sewell, these funds will be devoted to career development for students who are pursuing their degrees, in addition to adult learners who want to fortify their skill sets.
"It's a multipronged initiative to purchase equipment that will advance manufacturing, innovation and the Arizona economy," Sewell explained. "We have a couple of grants through the New Economy Initiative—and one is for the fashion program directly. We have support for purchasing innovative software and equipment. We were also a part of the training program that was the career catalyst, and it's all under the New Economy Initiative umbrella."
FIDM students will gain access to the benefits and degree programs that ASU offers, including the freedom to choose coursework or minor areas of study outside the boundaries of fashion. They will also be able to study in Phoenix or Los Angeles, and ASU students will benefit greatly from access to a global fashion capital.
"[The integration] gives ASU students access to one of the great fashion capitals of the world, in Los Angeles—also, fashion as it relates to the entertainment industry, retail industry, brand sector, manufacturing and design," Bundy said. "It's all right here. Those students will have the opportunity to work with this industry here, and it gives our students a chance to collaborate with students who started their programs in Phoenix."
Photos courtesy of ASU.