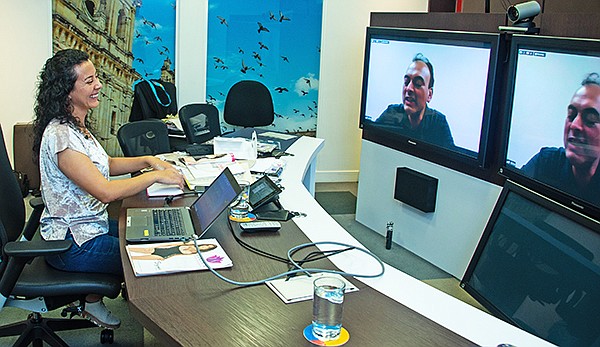 Jenifer Giraldo, a Colombian exporter from Fiber Tex Corporation Co'Coon, speaks with United States-based buyer Victor Cortes, senior vice president of operations at SUUCHI Inc. during ProColombia's Business Matchmaking Forum.
Stories this photo appears in:

Trade Shows
Since the onset of the COVID-19 shutdowns, much of the globe's businesses deemed nonessential have strategized to conduct meetings, engage in commerce and reach consumers in ways executives could never have imagined. While trade shows across industries have increased their digital platforms over the last few years to ease attendee navigation of event layouts and facilitate meetings between exhibitors and visitors, new event strategies have led the apparel segment to go virtual.