Barriers Prevent Quick Passage of CAFTA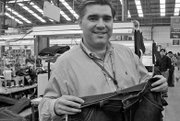 Apparel manufacturers may have to wait a little longer to see CAFTA become a reality.
Officials involved with the Central American Free Trade Agreement now say the accord will not be passed before Memorial Day, at the earliest, leaving many clothing and textile makers in Central America worried that they will lose even more business than anticipated to Asia.
"Delays on CAFTA certainly hurt us because they generate uncertainty," observed Carlos Arias, executive vice president of Koramsa, Guatemala's largest apparel manufacturer.The company makes 700,000 denim pants a week for U.S. companies, including Gap Inc. and Levi Strauss & Co., both based in San Francisco.
Late last year, trade officials estimated the pact would be passed by the U.S. Congress and the other six signatory countries in the first half of the year, most likely in March or April. El Salvador approved the agreement last December, leaving Honduras, Nicaragua, Costa Rica, the Dominican Republic, Guatemala and the United States to ratify the accord.
But several barriers unrelated to the apparel and textile industry have delayed CAFTA's introduction to U.S. politicians.
The latest glitch involves Guatemala. Last November, the Guatemalan Congress voted to revoke a five-year intellectual property rights protection provision for pharmaceutical products and medicines. The legislative action, which is out of step with CAFTA's provisions, was meant to expedite the introduction of generic drugs to the Guatemalan market.
The decision was praised by French organization Doctors Without Borders (Medecins Sans Frontieres), which claimed that the intellectual property rights had prevented the release of inexpensive drugs necessary to combat the HIV/AIDS problem in the region.
But U.S. trade officials were not pleased. The Office of the U.S. Trade Representative, which helped negotiate CAFTA, rebuked Guatemala for its action. "We are very disappointed that Guatemala has taken a step that violates its commitment under CAFTA," said Neena Moorjani, a spokeswoman for U.S. Trade Representative Robert Zoellick.
After much pressure, Guatemalan President Oscar Berger introduced legislation to Congress on Jan. 28 that would re-instigate intellectual property rights protection for pharmaceutical products and medicines. This is despite an online survey that said 86 percent of Guatemalans approved getting generic drugs to the market more quickly.
Berger's recent action prompted the U.S. Trade Representative's office to issue a new statement approving his move. "We will be looking forward to final implementation of the law," Moorjani said.
In addition, the Guatemalan Congress is expected to approve CAFTA sometime this month, prompting other Central American countries to follow.
Blowing down barriers
The dust-up between Guatemala and the United States is the latest barrier to getting CAFTA approved by the U.S. Congress.
Last year, the Dominican Republic imposed a 25 percent tax on soft drinks made with corn syrup, fearing the use of corn syrup would jeopardize the country's sugar industry. But after Zoellick threatened to remove the Dominican Republic from CAFTA, that country repealed the tax in late December.
The delay has not helped Central America's apparel and textile factories, which last year supplied 18 percent of the United States' imported apparel. The region is still slightly ahead of China, which has a 15 percent share.
Central American manufacturers believe that the free-trade agreement would make their region more economically attractive to U.S. companies.
"CAFTA certainly will help. The sooner the better," noted Bruce Masters, chief executive of Log Fashion S.A., a Guatemalan apparel manufacturer that does tops and bottoms for such retailers as J.C. Penney Co. Inc. "We are fighting. Fast delivery and quality is what drives a lot of our business."
Masters noted that without CAFTA, many factories cannot find the necessary capital to invest in new equipment. Some factories are closing.
Executives at ISL Inc., a knitwear manufacturer in Guatemala that makes mostly athleticwear, said the company's orders have remained strong. But two weeks ago, a nearby apparel factory shut down, sending unemployed workers to ISL in search of jobs.
"The delay in CAFTA has not affected any of our current lines yet," observed Luis Narciso, ISL's chief operating officer. "But it has certainly affected overall competitiveness because the longer CAFTA takes to pass, the longer it will take us to offer current and new customers programs using our woven fabrics."
Currently, under the Caribbean Basin Trade Partnership Act, apparel made from knit fabric manufactured in Central America out of U.S. yarn enters the United States duty- and quota-free. That status does not apply to woven fabrics, but that would change under CAFTA.
Twin Dragon Marketing Inc., based in Gardena, Calif., is operating its Nicaraguan textile and sewing factory with barely a hint of a profit margin because of the CAFTA delay. "We've been waiting for CAFTA for two years," lamented Bo Dean, Twin Dragon's senior vice president of marketing. "We're doing things at break-even prices to operate."
Even if the Central American countries ratify CAFTA, several influential groups in the United States have vowed to mount a major battle to prevent the act from being approved in its present form.
The textile industry and sugar producers are heading up the fight. U.S. textile companies, which export the majority of their fabric to Central America, noted that CAFTA would allow Central American manufacturers to use fabric from Mexico and Canada, both partners in the North American Free Trade Agreement.
It would also allow Nicaragua to import 100 million square-meter equivalents of fabric and yarn a year from third-region countries such as China and India to make apparel and then export it to the United States free of duties and quotas.
"The textile industry will oppose CAFTA," said Jock Nash, the Washington counsel for Milliken & Co., one of the largest textile firms in the United States. "Why should Canada and Mexico and China benefit from this trade agreement?"