FASHION
By Deborah Belgum | December 14, 2017
The graduating fashion-design students at Los Angeles Trade-Tech College showed off their creations at the recent Gold Thimble Fashion Show.
NEWS
FASHION
UBM Fashion, organizers of the various MAGIC trade shows in Las Vegas and other apparel events, is working with the Council of Fashion Designers of America to promote the growth of emerging talent in the fashion industry.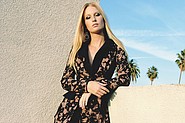 LACING UP
For his latest collection, Kevan Hall looked back to the 1970s with jumpsuits infused with sophisticated lace and flared pants.