TRENDS
| October 2, 2014
Sportswear takes a femme turn with floral prints, tennis skirts, matching sets and plenty of crop tops. Game on.—N. Jayne Seward
NEWS
FASHION
Just in time for its new flagship store opening on Rodeo Drive, the iconic British luxury brand Burberry will receive this year's Rodeo Drive Walk of Style Award.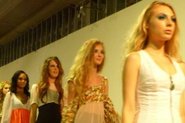 LA FASHION WEEK
Los Angeles Fashion Week events run from Oct. 8 through Oct. 19 and—so far—there are about 60 runway shows, installations and parties planned.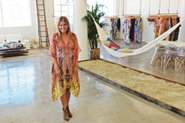 AT LA MARKET
Virginia native, opened her showroom, Summer Somewhere, in the Cooper Design Space in June. With the help of Richard Ruiz, stylist for Mara Hoffman, Spigel transformed the lofty corner space into a beach oasis, complete with a hammock hanging over a sandbox and display tables made from vintage surfboards.
FASHION SHOOTS