FASHION
By N. Jayne Seward | February 6, 2014
Denim designers go into the blue to create innovative looks for Fall.
NEWS
Los Angeles Fashion Week gets underway on March 9 and runs through March 18.
FASHION
The following new lines and new showrooms will be available during the March 16–20 run of Los Angeles Fashion Market. (Note: Not all showroom buildings are open all days. Please check Apparelnews.net for correct start and end dates for each building.)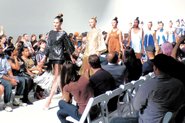 ON WITH THE SHOWS
Designers from across Los Angeles and around the world are preparing to show their Fall 2014 collections at the upcoming Los Angeles Fashion Week.
FASHION SHOOTS