TECHNOLOGY
By Dorothy Crouch | June 13, 2019
Much of the technology buzz over the last few years has surrounded artificial intelligence, or AI. As some brands and retailers wonder how to implement the tools that fall under the AI umbrella, they are up against competitors already lev­eraging these technologies.
Billions of dollars are spent on hiring social-media influencers to boost products on various Internet platforms such as Instagram and YouTube. And just like other forms of marketing, brands wonder if their money is being spent wisely.
Leading denim producer Isko will enter a new market in the United States next month when it introduces Isko Vital, a four-way-stretch fabric that provides compression technology.
Los Angeles–based fashion-subscription retailer DailyLook has been using a proprietary algorithm since 2014 to assemble boxes of premium denim and contemporary tops for women who don't have time to shop.
In 2018, two female researchers studied women in technology and asked this question: Do technology companies alienate women in recruiting sessions?
Since its founding in 2015 by Leandrew Robinson, Ismail Maiyegun and Yaw Owusu-Barimah, Oakland, Calif., drop-ship technology company Hingeto has been revolutionizing direct-to-consumer apparel manufacturing. Drop-ship supply-chain management allows retailers to order only the amount of goods that customers are demanding.
Across the street from the hipster hangout The Line Los Angeles in L.A.'s Koreatown area, a group of supply-chain industry veterans are working on a way to mesh their established practices of their business with the new world of blockchain.
Digital textile-printing-technology provider Kornit Digital has announced its latest offering, Kornit Discover—events that include educational workshops, networking opportunities, product demonstrations and sessions with guest speakers.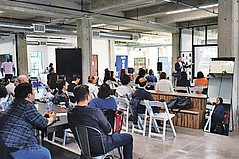 Shima Seiki, the nearly 60-year-old Japanese machine manufacturer and technology firm, recently unveiled its new showroom in the Arts District where it can take advantage of the neighborhood's roots in the apparel-manufacturing industry and its place in fashion's future.
Marketing professionals in retail and consumer goods are harvesting tons of data to monitor consumer habits, but that data often remains unorganized and unused.
With counterfeit goods estimated to carve out $461 billion in global trade, technology firm Entrupy has an anti-counterfeiting solution that proves authenticity for luxury resale outlets and decreases return fraud.
Shifting consumer behavior has left many retailers and brands wondering how to develop the perfect formula for successfully engaging shoppers.
Following the January announcement that it would invest in producing greener products, Amsterdam-based RFID-product and IoT-solutions provider Smartrac,while exhibiting at the17th edition of LogiMAT, unveiledits plan to add environmentally friendly tag options to its offerings.
Researchers at the University of Maryland have developed a new fabric that would make your body cooler when the weather warms up.
Social-commerce company Poshmark released its first review of the social-retail environment in a report called "A Year in Social Commerce."
Previous Next