Chain Reaction: New Store Openings in California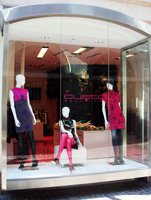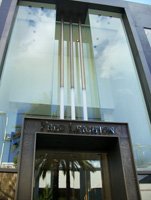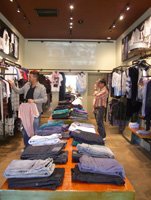 In the second of an ongoing feature, California Apparel News Retail Editor Andrew Asch rounds up some of the recent store openings in California.
A&G by Amal Guessous—The Los Angeles–based A&G brand has opened boutiques in Paris and Tokyo, but on Dec. 1, the company opened a store at 7922 Melrose Ave. in its hometown. The rock lifestyle is the inspiration for the boutique, which features leopard-skin carpet, classic-album art on the walls and a crucifix-shaped leather couch. It offers A&G jewelry, jeans and custom-made product. Plus, a significant amount of the store space is devoted to its sweater line, A&G Cashmere. The sweaters' price points typically range from $375 to $425.
Belle Epoque—A lean inventory is good for a retailer's bottom line, and it's also good for fashion, said Belle Epoque co-owner Ali Memarchi. He and co-owner Yalda Golsharifi held a grand opening Nov. 3 for the fashion boutique, located at 12350 Ventura Blvd. in Studio City. This 1,200-square-foot store will only stock a few pieces of a certain style. That way, if a customer buys a specific style, then she might possibly be the only one in the city to own that fashion. Hence, it's good for its consumer's sense of style, Memarchi said. Belle Epoque carries up-and-coming Euro brands such as Bellanina. Memarchi hopes to open another Belle Epoque store in the Los Angeles area in 2010.
Burberry—Burberry opened a boutique in wealthy Palm Desert, Calif., on Nov. 14.
Cube—Entrepreneur Kaz Shibmon opened this boutique in Los Angeles' Little Tokyo neighborhood in November 2008 as a home for his T-shirt brand Cube and as a headquarters for new Japanese fashions. The boutique is located at 102 Japanese Village Plaza.
Custo Barcelona—This colorful Spanish collection opened its second Los Angeles store on Nov. 28. The new store is located at The Grove retail center. Custo's first Los Angeles store is located more than one mile away at the Beverly Center.
D&G—Once the trendy, urban-focused line of Italian design house Dolce & Gabbana, D&G has grown into a full collection for men and women. A D&G flagship store debuted at 147 N. Robertson Blvd. in Los Angeles on Dec. 15. Its retail action started with a flashy celebrity gala that featured stars such as Kevin Connolly of HBO's "Entourage." The entire D&G collection for men and women is offered in this 6,800-square-foot boutique, which was designed by Dordoni Architetti Studio. Store manager Adrian Caprarella said the boutique would offer some D&G product unique to the store.
Gucci—The Italian heritage brand and former home of Tom Ford opened a boutique on El Paseo, the Rodeo Drive of Palm Desert, Calif., on April 25. Since then, Burberry opened a store on this stretch on Nov. 14. Bottega Veneta debuted an El Paseo store on Sept. 10, and Vilebrequin also opened an El Paseo store on Oct. 1, 2008.
Jack's Surfboards—Founded in 1957, Jack's is one of the granddaddies of the surf industry, and it continues to get praise as one of the most high-profile specialty retailers in surf. In 2006, the Huntington Beach, Calif.–based retail chain won the Surf Industry Manufacturers Association 2006 Image award for "Best Retailer." On Nov. 18, Jack's held a gala party for the debut for its sixth store, located at the Oak Creek Village Center at 5581 Alton Parkway in Irvine, Calif.
Kill City—This Los Angeles–based brand is many things. It is described as music-inspired, fashion-forward and blue-collar. While the brand has been sold at Metropark and Urban Outfitters, parent company Lip Service celebrated the opening of its new 800-square-foot Kill City store on Nov. 15 at 7975 Melrose Ave. in Los Angeles.
Kimski—Los Angeles–based vintage-fashion company Environmental Materials Recovery Inc. opened Kimski in Los Angeles' Little Tokyo neighborhood in July as a place to sell its fashion brand Kimski, as well as contemporary and vintage European, American and Japanese fashions. It is located at 369 E. Second St. in Los Angeles.
Kitson—Kitson has attracted celebrities and paparazzi in its role as one of the anchors on high-profile Robertson Blvd. But it is taking up residence in other neighborhoods. On Dec. 19, it opened Kitson Melrose at 8590 Melrose Ave. in West Hollywood. The 7,200-square-foot store offers men's and women's fashions.On Nov. 28, a Kitson store opened at the Americana at Brand retail center in Glendale, Calif. In a Dec. 12 interview, Kitson owner Fraser Ross said, "The Americana store will show I have a brand that can go to a wider audience."
Fred Leighton—The venerable New York–based jeweler opened its third boutique Dec. 18 at 313 N. Rodeo Drive in Beverly Hills. Leighton's specialty is 18th-, 19th- and 20th-century jewelry as well as contemporary pieces. The Rodeo Drive store offers an ancient Egyptian necklace reportedly owned by Victorian-era theater star Lilly Langtry. Diamonds and tiara pieces are offered at the Rodeo Drive store.
Ralph Lauren—The New York fashion house's Double RL label sings the song of blue-collar America. It offers pieces inspired by vintage workwear, military and cowboy clothes. Price points range from $60 for T-shirts to $3,500 for vintage pieces from this line. On Oct. 31, 2008, a Double RL boutique opened in a 2,600 square-foot space at 8150 Melrose Ave. On Sept. 19, a Ralph Lauren store opened at 141 N. Robertson Blvd.
Space15Twenty—Urban Outfitters Inc. opened this experimental mall on Dec. 6 at 1520–1542 N. Cahuenga Blvd. in Hollywood. The site is experimental because it offers a lot of public space. There's a plaza that also serves as performance space for bands and DJs. The 26,400-square-foot retail center also features an art gallery. Space15Twenty is centered around an 11,000-square-foot Urban Outfitters store. A spokesperson for the retailer said the store is surrounded by boutiques likely to attract Urban Outfitters consumers. Other stores include a boutique for skate label Alife, vintage fashion shop What Comes Around Goes Around and Urban Outfitters brand Free People.