Online Wholesaling for the Little Guy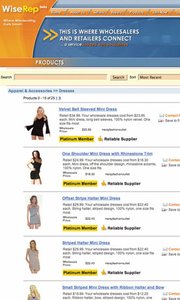 Apparel wholesalers looking to sell their goods online now have another resource in Orange, Calif.–based WiseRep.com.
WiseRep provides a means to connect buyers with manufacturers and importers and vice versa over the Internet. The 2-year-old company recently reached a partnership with Macy's, making the endeavor that much more attractive, said Vice President of Sales Jason Neely.
The site is fitting for stores such as Macy's because of its broad product categories. Aside from apparel and accessories, it also services gifts and home accessories, beauty, books, music, toys, and electronics.
"It's like a dating service or virtual trade show," Neely said. "Our niche is specialty stores."
Sellers pay $185 to set up their domains plus $30 monthly membership fees. The site is self-managed by the wholesalers, who also have unlimited access to adding and changing product offerings. The service is free for retailers. Registered stores include Macy's, Wal-Mart, Target Stores, PacSun, Hot Topic and others.
Registered buyers need only to click the item they are interested in to place an order or inquire about additional information. The products are categorized and subcategorized for easy navigation, said Neely, adding that there's virtually no learning curve on either side.
"The industry is moving toward the Internet," Neely said. "It all started with [9/11]. Now gas prices are coming into play, making it more costly to travel." In addition, wholesalers sometimes find it difficult to grab the attention of buyers at trade shows and other events because of all the competition and distractions.
"We're all for trade shows," Neely said. "We go to [the] MAGIC [Marketplace] every time, but it may be challenging for the smaller wholesalers, who can get overshadowed by these huge booths. That's why they come to our site."
For buyers, it's just another resource to find up-and-coming labels that provide some exclusivity.
The merchandise mix ranges from Che Guevara military hats for $12.50 from All the Rage Inc. and bias-cut hemp dresses for $34.50 from People's Hemp to beaded and lace evening gowns from CMG Ltd. for $149.
The site is growing, according to Neely. "It's continuing to expand," he said. "The Internet is changing the landscape of how companies operate."
For more information, e-mail
sales@wiserep.com
.
Centric to Relocate to NYC
Campbell, Calif.–based PLM provider Centric Software is moving to the Big Apple. The relocation is effective July 1 and is intended to help the company grow in the PLM market among the city's large base of fashion and consumer-goods companies.
The New York office will more than double the company's current presence. The company also has an office in Paris.
Centric develops and markets product lifecycle management software, which helps companies manage pre-production planning over a central Internet-based database.
AIMS Training at FBI
Los Angeles–based AIMS Technology Solutions Inc., in conjunction with industry educational resource Fashion Business Inc., is offering a certificate training program using the AIMS system on Saturdays from July 12 to 26.
Successful graduates of the program will obtain certificates showing competency in AIMS, which is a popular computer application companies use to manage orders and sales.
The goal is to incorporate the principles and procedures involved in the business applications of the apparel industry using AIMS. The course will cover order processing and allocation, inventory management, costing, ticket cutting, invoicing, bill of materials, purchase order, pick tickets, and more. Ralinda Harvey will instruct the course. The cost is $330 for FBI members and $395 for nonmembers. For more information, call (213) 892-1669.
NGC Partnership Augments Product Mix
Miami Lakes, Fla.–based software provider New Generation Computing has partnered with St. Louis–based Demand Management Inc. to provide that company's planning suite with NGC's Red Horse ERP [Enterprise Resource Planning] system.
The combined products will enable customers to manage supply chains from end to end, incorporating Demand Solutions' capabilities, which include sales and operations planning, forecasting, collaboration, inventory management, manufacturing, and retail planning.
Coupled with NGC's inventory, production and sales information can help companies place orders based on real-time information and match supply-chain production to demand to improve order fulfillment and streamline inventories.
"This integration helps NGC deliver increasing value to our customers and builds on the tremendous synergy that exists between NGC's and DMI's customers," said Alan Brooks, NGC president. "It also enables our mutual customers to leverage the strengths of the entire American Software family of companies."