Forever 21 Makes an Offer for Mervyns' Stores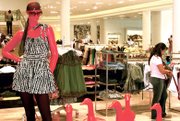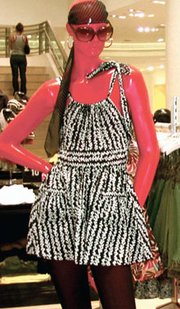 Mervyns' bad luck may be Forever 21's good fortune.
Weeks after the mid-tier department-store chain filed for Chapter 11 bankruptcy protection, Forever 21 is bidding to buy 150 of Mervyns' stores.
If successful in its purchase, Forever 21 would decide which stores to sell and which to keep open to expand the Los Angeles company's growing retail empire.
"We have been looking at this kind of asset for years," said Christopher Lee, senior vice president for Forever 21, whose array of fashionable apparel for young women and men is sold at bargain-basement prices.
Lee said the company recently submitted a bid to Miller Buckfire & Co., the New York financial adviser helping Mervyns with its bankruptcy, to buy 150 of the troubled company's 176 stores. Mervyns, based in Hayward, Calif., is closing the other 26 stores. "We are the stalking horse," said Lee, referring to the term that defines the first bidder in a bankruptcy proceeding. "We've submitted our proposal, and we are waiting."
Forever 21 executives wouldn't reveal their bidding price for the stores that would be converted into Forever 21 outlets.
Forever 21's audacious move could prove to be wise or bad timing, depending on which way the economic winds blow.
"If they can get this at a great price, if they have the capital to do it and it doesn't cause any pain, it could be a wise move," said Liz Pierce, a retail analyst at Roth Capital Partners in Newport Beach, Calif. "And then I could make the argument of, 'Whoa, really?' I don't know their return on investment on those big-box stores versus their smaller stores. And then there is the elephant in the room with the economy."
However, this could also be prime time to buy real estate, as prices are slipping from their highs in 2006. "Real estate is low right now. If you can get it at the right price, it is probably not a bad move at this juncture," said Jeffrey Van Sinderen, a retail analyst at B. Riley & Co.'s Los Angeles office. "It diversifies their footprint. It's an interesting idea."
Mervyns, founded in 1949 by Mervin Morris, has gone through various owners.
In 1978, Mervyns was bought by Target Corp., previously called Dayton Hudson Corp., for $300 million. In 2004, Target sold the chain, with 257 stores in 13 states at the time, to an investment consortium that included Sun Capital Partners Inc., Cerberus Capital Management and Lubert-Adler/Klaff and Partners LP for $1.2 billion.
Even then, Forever 21 executives had been vying to buy Mervyns, Lee said, but lost out to the investment groups. Now Forever 21 is at it again.
Despite the dour economy, Forever 21 is in an unusual position. It is flush with cash and has been experiencing positive same-store sales in recent months, Lee said.
"We continue to envision our big-box concept and want to provide it to a wider demographic," the Forever 21 executive said.
The average Mervyns store is 80,000 square feet.Retail madness
Forever 21 has approximately 430 stores in the United States, including a handful of Heritage 1981 stores, launched two years ago with an array of slightly edgy clothes with a hint of vintage, and a few Twelve by Twelve stores that offer a younger contemporary look for sophisticated customers. The company also has a number of accessories stores called For Love 21.
Most of Forever 21's stores range from 10,000 to 20,000 square feet and are located in malls. But in mid-2006, Forever 21 launched its first department store–style outlet, which was much larger than the company's traditional specialty stores crammed with merchandise. It converted an old Saks Fifth Avenue emporium encompassing 40,000 square feet in Pasadena, Calif., into a Forever 21 flagship store. It is packed with elegant touches, such as the marble-tiled floor, sweeping curved stairway to the second floor and chandeliers.
Forever 21's goal has been to open more big-box concepts to keep its annual sales volume growing at a healthy clip. In 2007, sales revenues reached $1.3 billion. This year, they are expected to top $1.8 billion, Lee said.
This is a gigantic departure from 1984, when Don Chang, the founder of Forever 21, opened his first modest store in Los Angeles' Highland Park neighborhood.
The retail chain has been one of the fastest-growing, privately owned businesses in Los Angeles. Along with expanding the size of its stores, Forever 21 is going international.
On Oct. 9, the company opens its first retail concern in South Korea. It is a 25,000-square-foot store in the Myung-Dong district of Seoul, South Korea, near the presidential palace and the U.S. Embassy. On Oct. 10, a franchisee is opening a large Forever 21 store in Bangkok, Thailand, in the CenterWorld shopping center.
Forever 21 is also scouting locations for a flagship store in Shanghai. "We continue to benefit from the people who are looking for great fashion and value," Lee said, referring to the company's typical 15- to 25-year-old customer who is long on trendy looks and short on cash. Forever 21's prices range from $12 for T-shirts and $22 for jeans to $24 for dresses and sweaters.Mervyns' downfall
Mervyns has been an institution for families looking for value clothing and household goods. But recently, it has been maneuvering through rough retail waters. Other mid-tier stores, such as JCPenney and Kohl's, have been expanding aggressively. And the recent sub-prime mortgage mess and high gasoline prices have left consumers with fewer dollars to splurge on clothes.
Things started going south, Mervyns store executives said, after the company was purchased in 2004 by the investment groups, which separated the company's real estate holdings from the retail operations.
After Mervyns declared Chapter 11 bankruptcy at the end of July in U.S. Bankruptcy Court in Delaware, it turned around and filed a lawsuit in early September against its former owners, the investment groups and Target.
The lawsuit claims that to finance their leveraged buyout, the investment groups borrowed hundreds of millions of dollars against Mervyns' real estate while separating the store locations from Mervyns' retail operations. Court documents said that the new owners then turned around and increased rents to service debt and took advantage of rising property values.
Currently, Hilco Merchant Resources of Northbrook, Ill., is handling the liquidation sale at 26 Mervyns locations slated to close in late October or early November while other Mervyns stores remain in operation. Mervyns received $465 million in debtor-in-possession financing from a lendor group led by Wachovia Capital Finance Corp. to fund ongoing operations.
The company said in its bankruptcy filing that it had between $500 million and $1 billion in debt.
Whether Mervyns remains in existence or disappears is uncertain. "There are different scenarios," said Mervyns spokesperson Roy Berces. "We would like to emerge from Chapter 11 as Mervyns, but that would mean getting an investor."