Rachel Pally: Swimwear With Roots in Jersey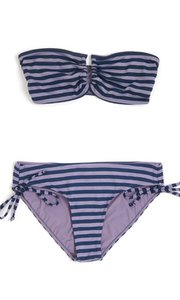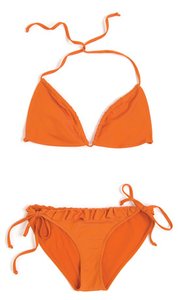 Having built quite a following for her flowing, easy-breezy jersey dresses that are oh-so–West Coast cool, Los Angeles–based contemporary designer Rachel Pally has turned her attention to swimwear. "It is a natural progression for us," Pally said. "It turns out women were wearing my dresses over their bathing suits to the pool and beach. So I figured I may as well make what they're wearing under my dresses!" Pally, who in the past made her own swimwear from scraps of materials by "tying two triangles together," said designing swimwear to complement her line has been a welcome change.
Launching early this year, the swimwear collection features seven bikini bottoms, six bikini tops and two maillot suits. String bikinis, high-waist briefs and hipsters pair with bandeau tops, triangle tops and pinup-inspired bikini tops. A leaf print carries over from Pally's apparel collection, and striped and solid separates in punchy brights allow for a playful mix-andmatch vibe.
"This is definitely a swim group for a contemporary line," Pally said. "It relates to the collection and hangs well with it." With that in mind, Pally has focused on selling the collection at contemporary trade shows to specialty boutiques. "We haven't shown at any swim shows. Our target is the retailer who is already buying Rachel Pally," the designer said.
Wholesale prices for the Summer collection are $38 to $40 for separates and $80 for maillot suits. For more information, call (213) 229-8700 or visit www.rachelpally.com.—Erin Barajas