Waterwear 2011: Balancing Act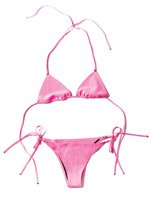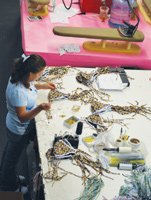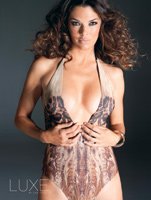 Swimwear brands continue to evolve sourcing strategies to find the right balance between domestic and offshore production.
Producing swimwear, whether domestically or abroad, is a tricky proposition. On the one hand, overseas production offers highly competitive pricing, plenty of factories to choose from and expertise in some more-labor-intensive techniques, such as embroidery. On the other hand, producing domestically drastically cuts turnaround times and allows for lower minimums and more hands-on control of production. In the past, a general rule of thumb said small and specialty brands would produce domestically while mass and mid-tier brands took their production overseas.
That is no longer the case.
"It's a global economy and now, more than ever, it's necessary to find balance," said Susan Crank, chief executive of Lunada Bay, the Anaheim, Calif.–based maker of Becca by Rebecca Virtue, Betsey Johnson, Lucky Brand and Mossimo-brand swimwear. "What that means is different for every company."
China, where many U.S. brands produce their swimwear, is in flux as labor prices increase and factory capacity among some categories is no longer seemingly limitless. Emerging production hubs, such as Mexico and Indonesia, continue to evolve, offering as many opportunities as questions for brands looking to exit China and the United States. Domestic production is also a moving target, as some mass and mid-tier brands, burned by fast-turning trends and production misfires, look to move chunks of their supply chain stateside. At the same time, some domestically entrenched designer and contemporary brands struggle with diminishing expertise among local contractors, price limitations from licensees and threats to their contractor base.
As a result, swimwear manufacturers large and small are making a departure from the status quo to rewrite their production strategies to best suit their individual needs.
"Every brand has its own variety of needs," said Tunia Kaawa, vice president of sourcing and production at Irvine, Calif.–based La Jolla Group. "Do you want to work as close to market as possible to hit the trends? Do you want to work close to home for faster turns and flexibility?" Different strokes, different folks
For Lunada Bay, aggressive diversification in production is key to a successful business model. "We put our production eggs into as many baskets as possible," Crank said. Roughly 60 percent of Lunada Bay's production is domestic, with the remaining 40 percent parceled out between contractors in Asia and Mexico, she said. But that picture could change, depending on emerging pressures that push and pull at Lunada Bay's supply chain.
Domestic production, wherever possible, is ideal for some Lunada Bay brands, Crank said. "We'd love to be able to produce 100 percent of Betsey Johnson, Lucky Brand and Becca domestically, but there are a variety of factors that are major concerns." Chiefly, Crank said, a slow but steady ebb of swimwear contractors makes domestic production challenging. The manufacturer does not operate its own sewing facility, and state laws and federal laws, including the impending healthcare law, could further compromise its contractor base, Crank said. "California isn't a very business-friendly state, and if, at some point, our contractors aren't able to thrive, we don't want to be left at the end of the day without production capabilities." Ultimately, Lunada Bay hopes to keep its 60/40 supply chain but is proactively searching out alternatives.
Diversification is also a key word at La Jolla Group, a major licensee in the action-sports industry that produces swimwear and apparel for brands such as O'Neill, Rusty, hellip;Lost and Metal Mulisha. Historically, the company has relied on overseas production, but now, Kaawa said, the company is pushing to bring back as much as 25 percent of its swimwear production to California. And, she said, La Jolla Group isn't alone in turning its focus to domestic production.
"Many of us made the transition into China, and now a lot of us are trying to figure out how to bring part of [our production back]," said Kaawa, who, prior to joining La Jolla Group, was the senior vice president of production for Quiksilver in Huntington Beach, Calif. "The goal is to create a hybrid supply chain for certain portions of our production to give us greater flexibility."
La Jolla Group currently waits a minimum of four months for swimwear produced overseas. That's too long to wait for fashion-forward pieces that help the brand market itself but don't necessarily sell like gangbusters, Kaawa said. It is these key but perishable styles that La Jolla wants to produce domestically. "We're not looking to sell thousands and thousands of these pieces, and we only manufacture [several hundred] of them, so it would be more cost-effective to produce those here than overseas, where the minimums [at La Jolla contractors] are 600 to 1,200 units," she said.
As she plots La Jolla Group's return to domestic production, Kaawa acknowledges that the brand will be returning to a changed landscape. "It is definitely a challenge to bring production back," she said, "especially for a company like ours that is looking for a full-package swimwear contractor with infrastructure that can deliver a finished swim piece worthy of the price we'll be paying for it."
However, the need for speed-to-market is very real, Kaawa said, and mitigates the costs and challenges associated with producing domestically. "It has been a main topic of conversation for us and others since the swim industry took a major downturn last year," she said. "All of us were challenged with an inventory position that didn't make any of us comfortable."
Producing domestically, though pricier, would also allow La Jolla to hedge its bets and wait until the last minute to place an order. Last-minute orders based on more-accurate trend information and actual orders from retailers could help La Jolla avoid close-outs and markdowns—something that can take a big chunk out of a brand's bottom line. "Producing here would mean we make less money on the front end, but at the back end of the selling season we'd take less markdowns. That's a big deal, especially in today's retail climate." The manufacturer hasn't finalized any plans yet, but Kaawa said she expects La Jolla Group to begin producing domestically for the Spring 2012 season. "It's important that we find a balance that allows us to be competitive with the brands that are produced exclusively here as well as those produced exclusively overseas."We're here. Get used to it
A handful of companies, both large and small, are opting to focus their swimwear production stateside, but that doesn't mean their manufacturing strategies are any less involved.
Tustin, Calif.–based Raj Manufacturing, which finds itself in the unique position of being quite possibly the largest domestic swimwear manufacturer, produces the vast majority of the swimwear and coverups for its in-house and licensed brands at its 70,000-square-foot factory. Raj, which has 11 brands in its portfolio—including St. John, Hurley and Hurley Girl, Ella Moss, Splendid, Guess? Inc., Tommy Hilfiger, and Reef—only works with factories in India and China to produce some price-driven, private-label swimwear and labor-intensive styles, said Alex Bhathal, Raj's co-president.
"The standard guideline is, 'What is the greatest driver of cost?' If the answer is 'fabric,' then it is economically beneficial to produce locally. If the answer is 'labor,' then it is more cost-effective to go overseas," Bhathal said. "Our business model is such that we are able to control inventory, react to sales opportunities and offer quick turnaround while, at the same time, not making month-long inventory bets, which are often wrong and can lead to a warehouse full of mistakes." Close-outs account for only an enviable 2 percent to 3 percent of units at Raj.
That isn't to say Raj hasn't experimented with additional foreign production. "We will always adapt," Bhathal said. Mexico, which some companies are turning to as a compromise between domestic production and far-flung overseas sources, did not pass a trial run. "We won't be going back there again," he said. Beyond being geographically well-positioned, Raj counts the expertise of its 300 factory employees as another key advantage to domestic production. Bhathal said keeping as many functions as possible within its own factory is key to the health of the company. "Knowledge, how-to—those things are very valuable. Once you decide to outsource production, you lose so much of that knowledge base, and it is very hard, nearly impossible, to get back," he said.
Maria Paz Navales of Los Angeles–based Undrest puts a similar premium on the expertise of domestic workers. Undrest—which makes lingerie, loungewear and swimwear—is a vertically integrated manufacturer, she said. Launching in 2007, Navales hired away sewers, sample sewers, cutters, pattern makers, production managers and quality-control workers from her contractors in 2009 to start her own factory. "For me, producing domestically and in my own factory is good business sense but also speaks to my business philosophy. We're a socially responsible company, and going overseas may make for a wider margin, but it would mean giving these jobs away."There and back again
Whitney Andresen, founder of the fledgling Bikini Thief line of contemporary swimwear, had no problem finding a Chinese factory to work with her small orders. "But it was a logistical nightmare. I'll never go back again," she said.
"The problem was that as a small brand with our 300-per-style-per-color orders, we weren't a priority. We weren't important, and it was a hard lesson to learn." Bikini Thief's first season sat on a loading dock waiting for a cargo plane for three weeks, she said. Later shipments took more than two months to reach them by boat. "Now we're working with a factory in California. It's pricier, but the turnaround time is better, the factory isn't as busy and we have better control of our product." As the brand grows, Andresen said, she would explore the possibility of producing in Indonesia, Brazil or Cambodia.
Dylan Odbert, whose Ambsn surf/skate brand sells in both core and better specialty retailers, said he had a fantastic experience in China—but after one season he also brought his boardshort production back to the United States. "It was a lot easier than I expected," he said. "Everything was done in time, the quality was good, they shipped on the day they said they would." The problem is that the factory expected increasing orders every season—something Odbert wasn't willing to commit to. The brand, which has been earning interest from investors, won't take its production overseas again until it reaches a size that justifies the move, he said.