Could RVCA Be Next in Billabong's Buying Spree?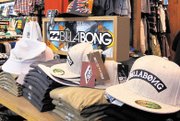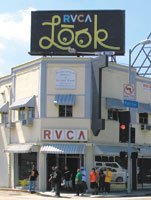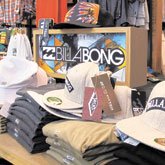 It has been a period of flux and regrouping for some of the biggest names in the surf industry, but Billabong International Ltd. has proved the exception as the company embarks on an ambitious buying spree.
The Australian-headquartered surfwear brand, which maintains headquarters for its North American division in Irvine, Calif., last week made the largest retail acquisition in its 37-year history. The surf giant purchased the 138 stores of Canadian retailer West 49 Inc. for $99 million (Canadian).
In May, it purchased Becker Surf & Sport, a five-store, core-surf boutique chain based in Hermosa Beach, Calif., for an undisclosed amount. Last November, the company acquired San Clemente, Calif.–based e-commerce boutique Swell (www.swell.com).
Billabong may not be finished shopping. It is widely rumored to be buying celebrated Costa Mesa, Calif.–based fashion brand RVCA. After several surf-industry publications and websites speculated on the rumor in the past couple of weeks, both Billabong and RVCA remain mum on the possible acquisition. (Neither company responded to requests for comment.) However, the possibility of an acquisition and new opportunities arising from the retail acquisitions have kept many analysts and surfwear watchers wondering what path Billabong intends to take with its properties.Opportunistic buying
Billabong executives seemed to leave open some questions on their strategy during a June 30 conference call with Australian analysts. Some of the recent acquisition deals happened by chance, said Billabong Chief Executive Derek O'Neill. "I think that we've always remained opportunistic. hellip; Sometimes it's amazing who is on the other end of the phone," he said of deals presented to his company. "Sometimes the phone rings and you go, 'Wow.'"
However, new retail will be crucial to Billabong's success, O'Neill said. His company is particularly keen on finding new retail opportunities in Asia and South America. "We've continuously looked at retail as a way to attract the new customer when there are no existing retailers," he said during the same conference call.
O'Neill told analysts he does not expect Billabong to stray far from its roots as a wholesaler. "I don't see this as a vertical strategy moving forward," he said. "Because even if [retail] gets close to 30 percent of revenue, there's still 70 percent out there with wholesale, so it's still the lion's share of the business."
Yet there may be no choice but to open more retail, according to a June 30 research note by analyst Greg Dring, who works for the Australian office of financial-services firm Macquarie. Billabong's traditional partners, core surf shops, have been in retreat recently, he wrote. If the retailer wants to grow, it will have to build a new channel of company-owned shops. His opinion might be supported by other research.
According to the Board Retailers Association, a trade group based in North Carolina, more than 2,000 independent core boardsports shops have closed in the past 10 years in America. There are still 11,000 surf and skate shops doing business across the United States. These retailers are looking for new avenues to attract new business, according to Melissa Clary, BRA's executive director. Some board retailers plan on attracting new customers by offering more eco-friendly products. Others hope the burgeoning sport of paddleboarding grows in popularity, especially in the Midwest, which is a new territory for many surf shops. Athletes can take their surfboard-like paddleboards on rivers and lakes.
Billabong executives have not talked much about paddleboarding. However, their Canadian acquisition will result in higher profits in a crucial market for Billabong's North America division.
Canadian business represents 10 percent of Billabong's North American sales, O'Neill said. And Billabong product is underrepresented in West 49 stores. Billabong merchandise currently commands just an estimated 15 percent of West 49's shop floor. The surf brand intends to increase its product mix in its Canadian retail partner, but it will keep the shop a multi-line store. Billabong's brand mix
Billabong Chief Financial Officer Craig White dismissed the notion of the surf label shopping for more brands. The company already owns 10 surf, skate fashion and accessory brands, including Nixon, Element, Tigerlily and Dakine. "The brand portfolio is increasingly complete," White said on the June 30 conference call.
However, the RVCA rumors have been persistent, and they have left many players in the action sportswear and fashion world speculating. Frank Delgadillo, founder and chief executive of Costa Mesa, Calif.–based fashion label Comune, said a RVCA purchase would help surf veteran Billabong gain a foothold in the contemporary and lifestyle market.
"Their portfolio covers surf and skate," Delgadillo said. "Nixon offers lifestyle and contemporary category for Billabong. But Nixon only does accessories. If they buy RVCA, Billabong will give them access to a lifestyle/contemporary-clothing market."
If a deal goes through, RVCA would be able to take advantage of Billabong's friendly acquisition policies. After a purchase, Billabong typically keeps its new brand's executive team together, and they are granted an enviable degree of independence. Billabong also offers its finance, marketing infrastructure and know-how.
The addition of a high-profile brand such as RVCA could also add a boost to Billabong's bottom line. Like fashion companies all over the world, 2009 was a rough year for Billabong. In February, the company reported its net profit after tax was $69.7 million (Australian) for the six months that ended Dec. 31, 2009. The result was down 7.6 percent compared with the same period in the previous year. O'Neill said the results were in line with what had been a difficult global retail environment.
Billabong executives were cautiously optimistic about sales for its divisions based in Australia, Europe and the Americas. "The Group experienced strong growth in many European territories, including Germany and Central European countries, while Australia had solid sales growth of approximately 4 percent compared with the prior corresponding period," O'Neill said, in a statement. "In North America, there were some signs of improvement in the company's own retail operations, but business remained relatively challenging at the wholesale-account level."
UPDATE: West 49 received a competing aquisition offer from Zumiez.