GlamAmor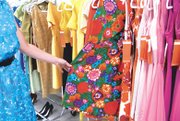 California Market CenterSuite A1179(888) 731-2413
Kimberly Truhler, looking very much like a So-Cal Betty Draper, believes in the power of vintage. For the past year, the former marketing executive has been selling classic vintage dresses online and at better vintage pop-up shops and events under the GlamAmor moniker. Now, for Fall 2011, Truhler is gearing up to expand GlamAmor's offerings with the debut of a 14-dress collection inspired by vintage styles and craftsmanship. The designer opened a California Market Center showroom to showcase the brand just in time for the Fall II/Holiday market.
The collection, which, Truhler said, is designed to flatter a variety of shapes and go from day to night, features cocktail dresses, sheaths, long-sleeve shifts, swing dresses, shirt dresses and the sexy '60s "wiggle" dress. Wholesaling in the $150 range, GlamAmor's debut collection will be available in a variety of fabrications, including silk, chiffon, cotton, white denim, silk shantung, cotton pique, wool knit and brocade. "They are all very classic fabrications," Truhler said, but the dresses offer a modern twist on the vintage theme.
GlamAmor's target distribution is independent boutiques and high-end department stores, she said. The dresses are made domestically.
At her CMC showroom, buyers will also find a selection of the vintage dresses that Truhler uses for inspiration and sells on her online store, as well as vintage handbags and costume jewelry. There's also a custom-made surf board—the only indication that the blonde, impeccably coifed Truhler ever steps out of her vintage dresses.—Erin Barajas