Huset Sets Up House in Venice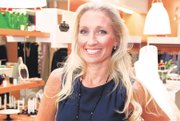 Los Angeles' center of Scandinavian fashion might be Robertson Boulevard—the address for boutiques for Norwegian brands One Piece and Moods of Norway, as well as Swedish brand Odd Molly. But Robertson might have some competition for Scandinavian design a bit further west on Abbot Kinney Boulevard in the city's Venice Beach neighborhood.
Huset, which translates as "the house" in Swedish, Danish and Norwegian, opened recently at 1316frac12; Abbot Kinney Blvd. The 1,500-square-foot multi-line boutique will specializein women's fashion, footwear and accessories as well as homewares and children's toys from Scandinavian designers.
Don't look to Huset for cold-weather fashions fit for freezing Scandinavian winters. Instead, the store will offer women's contemporary styles and sportswear from independent labels such as MaleneBirger, Hunkydory and Custommade. Huset is the only American retailer offering some of the Scandinavian brands sold at the store.
The Abbot Kinney location will be the first physical location for the Huset brand. Huset owner Holly Hallberg ran her website at www.huset-shop.com, based in Malibu, Calif., since November 2007. "The next two years will determine whether we expand to other stores or not," Hallberg said.—Andrew Asch