BRAND EXTENSION
Allen Schwartz Ventures into Young Contemporary and Plus Sizes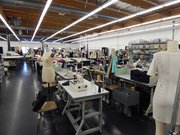 Allen Schwartz has been in the fashion business for more than 40 years, which has taught him two basic elements needed to survive: Stay on top of the trends and constantly reinvent yourself.
"We are like the Marines. We land first, and we get out first. I don't want to be caught holding the bag," Schwartz said, sitting inside his vast headquarters building on the edge of the downtown Los Angeles Fashion District.
The fashion veteran—dressed in a white T-shirt, black-and-white printed corduroy pants and striped turquoise socks—comes by this formula after 10 years of working as the creative director at the original Esprit Corp. and after more than 30 years as head of his own company, ABS by Allen Schwartz.
With reinvention in mind, Schwartz last year quietly rolled out a new denim and leather-centered young contemporary label, called Blue Pearl by Allen Schwartz,with retail prices ranging from $200 to $400. Leather jackets sell for under $800. "I felt there was a big void in the casual-fashion zone," Schwartz observed.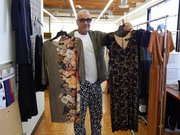 Barneys New York was one of the first outlets to show it. The line has also been stocked at the ABS by Allen Schwartz flagship store in Santa Monica, Calif., where it accounts for half of all sales now.
And the label is growing. The Blue Pearl collection is expanding its offerings with dresses, jackets and tops, and the label is planning to sell its merchandise to more specialty stores. One of the signature pieces for Spring 2014 is a chambray moto jacket made of 100 percent lambskin leather. Designed to resemble washed-out denim, it has white contrast sleeves to make it appear to be a denim vest.
Polkadots & Moonbeams on West Third Street in Los Angeles has seen the line and plans to carry it. The store's owner, Wendy Freedman, said she loves the label because of the fit. "I feel confident that the line will look awesome on my customers' bodies," she said. "Allen continues to surprise me with his fresh ideas."
Madison, the Los Angeles store chain known for its selection of designer and contemporary clothing, said it will be stocking the Blue Pearl line, said womenswear buyer Emily Goldstein.
First-year revenues for Blue Pearl tallied up to $2 million with projections of $4 million to $6 million in 2014, Schwartz said. Recently, he added Jen Terry to the Blue Pearl team as a designer. Schwartz is the head designer.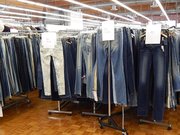 Keep on movin'
Schwartz is constantly reconfiguring his ideas by seeing what is out there in the market and what is not. He rises early and is in his office by 7 a.m., where all creative meetings take place before noon. "I just came out of three meetings and it is only 9 a.m.," he said in a recent interview.
Three or four times a week, he takes off in the afternoon to shop the stores in a particular LA neighborhood. One day it may be Venice and Santa Monica. Another day it could be Beverly Hills. Another day he might stroll down Robertson Boulevard and Melrose Avenue. He always takes his camera to capture what is on the store racks. "You can't get lazy in this game. I don't care how successful I am. I feel like there is something I could always do better," he explained.
Schwartz not only studies what is in the stores, but he makes a few purchases. Inside his 60,000-square-foot building—which houses designers, sample makers, customer service and shipping— there is a large open space carved out for Schwartz's own vintage collection of clothing he has been gathering for 35 years. "These are my archives," he said. "There are 15,000 pairs of jeans here. I have vintage leathers here. Almost on a daily basis I refer back to this collection."
ABS by Allen Schwartz has always been strongest in the casual dress, career dress and evening-gown category. The company gained a reputation for reinterpreting red-carpet gowns seen at celebrity-studded events such as the Academy Awards and the Emmy Awards. His dresses, however, don't sell for thousands of dollars but hundreds. "Our mantra has always been 'affordable luxury,'" he said. Almost everything he makes, except for the leather jackets and faux-fur jackets, is manufactured in Los Angeles with contractors he has been using for decades.
Schwartz's designs sell at high-end department stores such as Saks Fifth Avenue, Nordstrom, Neiman Marcus and Bloomingdale's. But he is hoping to expand to more specialty stores with the line. He is constantly shuttling back and forth between Los Angeles and New York to take care of sales, meet with retailers and expand the business.
Eight months ago, the company launched a plus-size version of its dresses, which now are a strong seller at Nordstrom, Schwartz said.
For five years, Schwartz was designing a low-cost line called Allen B. for JCPenney. But Schwartz, who designed the line, which was sourced by the retailer, said he is ending that deal this December because of the retail chain's schizophrenic behavior—even though during a three-year period he earned royalties on $290 million in sales. "To be frank, I became uncomfortable with them. Too many changes. One week it was denim. The next week it was dresses. I like to be more consistent," he admitted.
He is now looking for a new mass-merchant partner to carry his Allen B. line.
He is also expanding his licensing deals. That is being handled by Armand Marciano, who more than a decade ago left Guess Inc., which is run by his brothers.
In 2003, Marciano became the co-owner of ABS by Allen Schwartz. He is in charge of licensing deals for things such as denim, which Schwartz designs, as well as jewelry and childrenswear. The company is busy working on adding several licenses for things such as fragrances, accessories and footwear. "Armand has been the driving force behind the licenses," Schwartz said. "It has been a great partnership, so I can deal with developing product."