MANUFACTURING | RETAIL
2014 Newsmakers: Mayor Eric Garcetti's Minimum Wage Proposal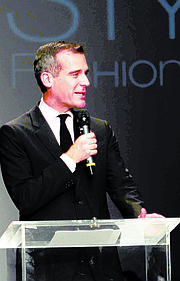 On July 1, the minimum wage in California increased from $8 per hour to $9 per hour, the first increase in California's minimum wage since 2008. In 2016, the minimum wage will increase to $10 per hour,
This year, voters in San Francisco and Oakland, Calif., approved raising the minimum wage in those cities to $12.25 next year. (San Francisco currently has a minimum wage of $10.74, and the city is planning to raise the minimum wage each year over the next four years.)
California already has a higher minimum wage than the federal minimum of $7.25, which has not changed since 2009.
But for the Southern California fashion industry, the minimum-wage increase that generated the biggest shockwaves was one that hasn't happened.
On Labor Day, Los Angeles Mayor Eric Garcetti announced a proposal to raise the city's minimum wage to $13.25 in the next 2½ years, starting with a raise to $10.25 next year, followed by annual raises of $1.50 until 2017.
The mayor has the support of the Los Angeles County Federation of Labor, and he commissioned a research paper from the Institute for Research on Labor and Employment at the University of California, Berkeley, which studied the impact of a higher minimum wage on several Los Angeles industries. According to the study, which is available on Garcetti's #RaiseTheWageLA website (www.lamayor.org/raisethewagela), labor costs (excluding health benefits) currently account for 11 percent of retail operating costs and 13 percent of manufacturing costs. An increase in the minimum wage will increase operating costs by 0.6 percent for retail and by 0.4 percent for manufacturing. The study further predicts that boosting the minimum wage will also boost the local economy.
Many retailers either say they pay above the minimum already or will be forced to absorb the cost if the wage is raised. Manufacturers were more alarmed at the prospect of a higher minimum wage.
Many Los Angeles–based businesses argue that they are already running lean operations and thin margins in order to meet retailers' demands for sharp prices.
Some said they would be forced to move to nearby cities, such as Vernon and City of Commerce, if Los Angeles enacts such a drastic increase, which could add as much as $8,840 every year to the salary of a full-time worker. Others said they would consider cutting back on employees' hours. And some said they might shutter operations altogether.
The California Fashion Association released aposition paper proposing a reduction of some business taxes, a 60-day training wage and tax credits to help manufacturers purchase or lease new machinery related to employment.
In October, the Los Angeles City Council requested another study be done on the proposed wage hike. The announcement came a few weeks after the City Council voted to raise the minimum wage for hotel workers to $15.37 per hour beginning next summer. The nearby cities of Santa Monica and Long Beach already have a special minimum wage for hotel workers. In Santa Monica, they earn $15.37 per hour, and in Long Beach, they earn $13.53 per hour.