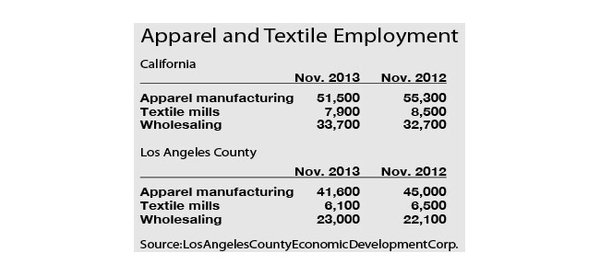 FINANCE
Economists Say a Tough Year Can Only Lead to a Much Better 2014
Apparel manufacturers and clothing stores are taking stock of 2013 and shaking their heads.
It wasn't exactly a horrible year, but retailers and manufacturers are wondering whether they are in for more of the same.
"I have a feeling that 2014 will be better than last year, but that's not saying much," said Jane Siskin, chief executive of Los Angeles–based Jaya Apparel, formerly called L'Koral Industries, which takes in more than $150 million in annual revenues. "Being more key-item driven and responding to early good sales definitely helped us fare better than in prior years, when we relied on newness to grow sales."
Those key items included occasional dresses and blouses that could be worn with jeans for daytime or a skirt for a night on the town. That strategy helped beef up Jaya's revenues by 10 percent in 2013. "We shipped a lot of margin builders," Siskin noted.
With no new trends in sight, the apparel executive said the company will concentrate on putting a twist on current trends and delivering more color throughout its juniors, contemporary and misses brands, which include Elizabeth and James, Patterson J. Kinkaid and Olsenboye.
Economists pouring through the latest statistics believe that 2014 will be slightly better than 2013, with the gross domestic product poised to rise as much as 3 percent. Healthy GDP growth hovers between 2 percent and 4 percent.
"We have been stuck at 2 percent, plus or minus, for the last few years," said Robert Kleinhenz, chief economist at the Los Angeles County Economic Development Corp. "But we seem to be looking at an economy that is accelerating a little bit in 2014 compared to 2013."
Ringing out the holidays
With national unemployment down to 6.7 percent and more people with jobs, retailers were betting on a better holiday season. But the results have been disappointing even though big sales and promotional deals were flying high in late November and early December to entice customers through the doors.
Shoppers may have come, but retailers were underwhelmed when the cash registers were rung up. "What made Christmas a challenge for retailers is that more consumers wanted to buy in the $25 to $35 gift range, and last year it was in the $35 to $50 gift range," said Britt Beemer, a retail analyst and founder of America's Research Group, which polls 1,200 consumers a week to take the pulse of their retail-spending habits and attitude. "People were spending less and waiting for bigger and bigger sales."
Beemer noted that unemployment figures may be down, but that doesn't tell the whole story. "Ten years ago, 18 percent of consumers polled said someone in their home was unemployed, underemployed or took a job that paid less. Today it is 38 percent," he observed.
A highly promotional holiday season took its toll on department stores and retail chains. Anaheim, Calif.–based action-sports retailer Pacific Sunwear of California, which has 629 stores, struggled during the holidays. It is expecting same-store sales to be flat or up to 1 percent when the results are tallied for the latest quarter. It predicts revenues to be $211 million to $214 million in the fourth quarter, compared with a previously expected $216 million to $225 million.
"After a strong start to the holiday season in November, the first three weeks of December were significantly below our expectations, primarily due to a decrease in traffic and softness in denim," Gary Schoenfeld, Pacific Sunwear's chief executive, said. "Business picked up in the final few days prior to Christmas and then finished the month strong as self-shoppers came back to the mall."
Specialty retailer Express Inc., based in Columbus, Ohio, was down in the dumps when it analyzed holiday sales at its approximately 625 mall-based stores, which sell men's and women's clothing.
"What we experienced was a drop in traffic that was even deeper than anticipated, as consumers waited until much closer to Christmas to shop," said Michael Weiss, chairman and chief executive of Express Inc. "To ensure that we captured customer dollars when customers ultimately arrived, and with a view to preventing inventories from building, we extended the duration of our promotions and deepened the discount being offered. January traffic to date has been weak, [but] we have remained promotional and expect to maintain this stance throughout the month."
The retailer said its same-store sales are expected to be flat to low single-digits.
California cruising
Retailers in California had to not only deal with bargain-hunting shoppers but with an unemployment rate of 8.5 percent, which is nearly 2 percentage points higher than the national average.
But economists such as Esmael Adibi, director of the Anderson Center for Economic Research at Chapman University, expect the state's unemployment rate to drop by 1 percentage point this year. Most of those gains will be made in the coastal regions of the state rather than around the Central Valley, which includes Bakersfield and Fresno.
"Job creation in California is gaining momentum," Adibi said. "That suggests the year should be decent for apparel makers and retailers, but it depends on pricing," he said.
California's retail sales, Adibi said, are expected to be up almost 6 percent this year. The big drivers will be furniture and appliances, expected to jump 9.6 percent, and building materials, predicted to surge 10 percent. Car sales will rise 8.2 percent, and apparel sales will inch up 5 percent.
This year, there won't be as many federal economic barriers as last year to impede economic growth. In 2013, the country saw the Social Security payroll tax rise 2 percent. That meant a household earning $50,000 a year was paying $1,000 more in taxes.
The government shut down for 16 days last October and furloughed 850,000 federal employees while Congress worked out differences over appropriating funds for fiscal year 2014. Many government offices shut down, halting federal permitting and reviews necessary for transportation and energy projects. Import and export licenses were put on hold, negatively affecting trade, and confidence in the U.S. economy eroded.
A shutdown won't be in the works for at least nearly two years because in December, Congress approved a federal budget for fiscal year 2014 and fiscal year 2015 (which ends Sept. 30, 2015).
One more government hurdle last year was sequestrations, or automatic federal budget cuts, which shaved about $85 billion of federal spending in 2013, affecting government jobs and services. This year, Congress is trying to ease some of those budget cuts.
"Last year I think government policies such as sequestration and the increase in the payroll tax rate and a few other measures knocked off a half to three-quarters of a percent from the GDP [gross domestic product]," said the LAEDC's Kleinhenz. "We don't have that problem in 2014. We should get a good strong dose of private-sector growth and not be knocked off by public-sector action."