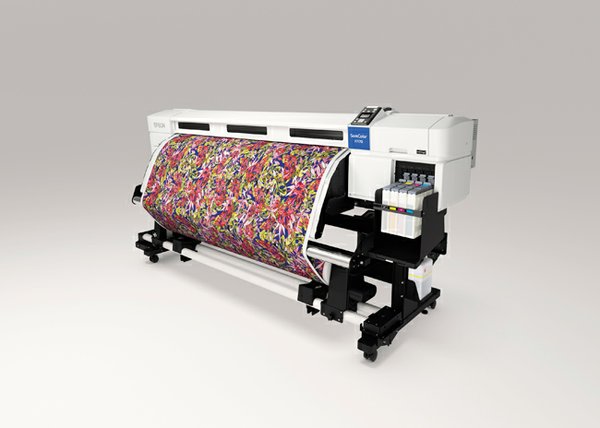 EPSON AMERICA INC.
Epson Introduces 64-Inch Sublimation Printer and Solution
Epson America Inc. took its first step into the textile market last January when it introduced its 64-inch SureColor F7070 and 44-inch SureColor F6070 dye sublimation printers. This month, the company is expanding its dye sublimation offerings with the Epson SureColor F7170, a 64-inch printer with a take-up reel system for roll-to-roll printing, a printhead engineered for sublimation ink and a built-in platen heater.
For many years, Epson technology and printheads have been used for sublimation, but the company had not released its own sublimation printing solution until now, said Product Manager Catalina Frank.
"Dye sublimation is new for Epson," she said. "This is the first time we are launching products that are built and dedicated to do dye sublimation on textiles. We're bringing to the market a complete Epson solution because we design and built the printers to perform under dye sublimation environments."
Epson's previously introduced sublimation printer, the 64-inch SureColor F7070, was best suited to handle heavier materials such as vinyl for banners. The SureColor F7170 was designed to handle thinner materials. "We looked at what it meant to print and to wind transfer paper that is as thin as one [sheet]," Frank said.
The SureColor F7170 has a longer "nose," allowing the paper trays to easily feed the take-up reel system. The printer also has a built-in platen heater to help speed the drying process.
"We have to make sure, at the speeds we print, that the inks are ready and dry to be bonded into the paper," Frank said. "The new post-platen heater accelerates the drying process before it goes into the take-up reel. Also, users don't need to wait [for the inks to dry]. They can stack paper or roll paper and go to the transfer paper process right away."
The take-up reel system also keeps printed rolls from "wandering," eliminating opportunities for creased or skewed printed paper.
The F7170 is a fast printer, thanks to Epson's MicroPiezo TFP printhead, which has 360 nozzles per channel and can handle 10 separate ink channels.
"If you are replacing [a printer] with new technology, you can achieve more with fewer printers and your square-foot productivity is increased," Frank said.
Total solution
In addition to the SureColor F7170, Epson is offering ink, paper, software and service for companies looking to create their own sublimation-printed designs.
The inks are manufactured by Epson using its own formula and optimized for durability. Epson also redesigned the packaging to reduce shipping costs and minimize waste. "We developed a bag [that looks] pretty much like a Capri Sun juice package," Frank said.
The Epson Ultra Chrome DS ink system comes with a chip that monitors how much ink is being used and alerts the user when it's time to refill the printer. "This is something that also helps the user keep track of how much ink is being used in the workflow process," Frank said.
Epson engineered its MicroPiezo TFP printhead to work well with sublimation inks, which are typically heavier than solvent inks, Frank said.
"The printhead is the hero of our dye sublimation technology," Frank said.
Epson's printhead can reproduce very intricate and detailed designs, as well as very small fonts, according to Frank. "Four-point [fonts] are readable despite the fact that the fiber expands," she said. "The registration is very good."
The Epson MicroPiezo TFP printhead helps users "accurately manage the amount of ink that you need to reproduce your digital file with the best fidelity possibly," Frank said. "With this, we can tell the end user, 'You're using the right amount of ink to get the color [range] that you're looking for.'"
Optimizing the printhead with the ink helps reduce the amount of ink used and reduces the chance of damage to the printhead, Frank said.
"Dye sublimation inks are thick, heavy. They're solids, really," she said. "In the past, they've been known to damage printheads frequently, and, within a year, people are replacing printheads, depending on the ink types they use. With the improvements we've made to the technology, we've prolonged the life of the printhead, which is the most valuable and costly piece of the printing technology."
Improved paper and RIP solution
The company is also launching several new papers dedicated for transfer for either textile or rigid surfaces, Frank said.
For textiles printed on a calendar press, there is a DS Transfer Multipurpose paper for rigid and textile applications. There is also a new DS Transfer Production paper, which is a thinner paper that comes in 575-foot rolls. "It really supports unattended printing, which is what we ultimately want with a 64 roll-to-roll printer—to be able to support long print shifts," Frank said.
There is also the DS Transfer Adhesive textile paper for use with flatbed printers to help eliminate "ghosting" and improve yield ratio, Frank said.
Epson has partnered with Wasatch Computer Technology to use its Wasatch
softRIP TX printing software. (A RIP, or Raster Image Processor, helps printers render high-resolution images and ensures consistent color and enhanced workflow.) "They are very well known in the dye-sublimation world. They were doing a lot of screen-printing software design before, and then dye sublimation started booming about four years ago. They have experience in what end users need. They offer six months of free support once the user registers the new license.
Epson's parent company, Seiko Epson Corp., also is working with other RIP software providers such as ErgoSoft and Caldera to develop compatible software to use with its sublimation printers. "If a shop is in a Caldera workflow, they can access a Caldera RIP for the printer," Frank said.
Rewarding loyalty
There is also an Epson Reward program, which was designed to encourage "a loyal base of end users and reward them for staying with the Epson solution."
Priced at $19,995, the SureColor F7170 comes with ink, Wasatch softRIP software, a sample of Epson's paper and a one-year warranty. The company will begin taking pre-orders in March with shipping expected to begin around May or June.