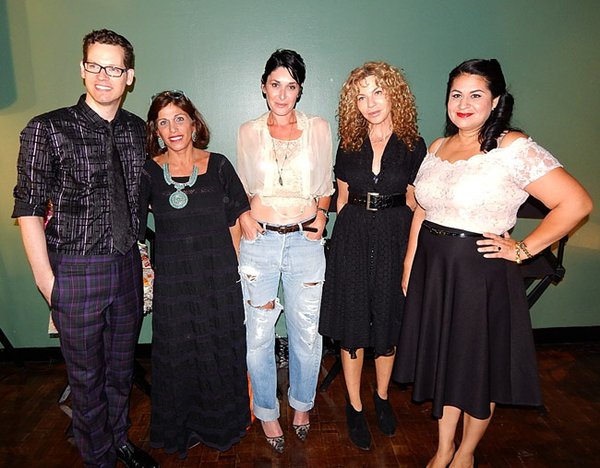 FASHION
How Vintage Fashion Affects Contemporary Design
Designers who are looking forward for clothing ideas often glance back to get inspiration.
Ralph Lauren is one of the prime examples of how a designer turns the past into the present. In the 1980s, he built his line on the American prairie look. He has taken the styles from "The Great Gatsby" era of the 1920s and turned them into a sophisticated collection. Most recently, he has been an astute student of the Edwardian period of the early 20th century, which falls in sync with the popularity of the British TV series "Downton Abbey."
To explore how the previous trends affect today's fashion world, Fashion Group International of Los Angeles on June 24 organized a panel at the Fashion Institute of Design & Merchandising in downtown Los Angeles to take a look at the subject. The four panelists were Doris Raymond, owner of the vintage boutique The Way We Wore; Alicia Estrada, owner of the clothing company Stop Staring!, which makes clothes primarily inspired by the 1950s; Shareen Mitchell, who owns Shareen Vintage; and Madeline Harmon, co-owner of Chuck's Vintage store on Melrose Avenue.
Everyone agreed that taking cues from vintage apparel is a popular way for designers to come up with new ideas. "We are the pebble in the pond," said Raymond, who opened her first vintage shop in San Francisco in 1981 and later moved it to La Brea Boulevard in Los Angeles.
Raymond has two sides to her business. There is the boutique side frequented by shoppers looking for brand-name, high-quality vintage pieces. Then there is the by-appointment-only side for designers who use vintage pieces and prints to collect ideas.
They can be studying the construction of a 1960s Oscar de la Renta gown or the floral embroidery on a 1950s Mexican dress or the sleeve detail on a 1940s dress. "In my experience, I see that pretty much every decade has its niche," she said. "And then fast-fashion goes after the ones who are knocking off the decades they see are hot."
The world of vintage started getting a toehold in the fashion world around the 1980s, the panelists said. It was a time when there were scores of vintage apparel stores on Melrose Avenue in Los Angeles and the Japanese were paying thousands of dollars for vintage Hawaiian shirts. This was the decade that J. Peterman, the vintage-inspired clothing catalog, was started by John Peterman, who sold apparel based on vintage pieces. The first item he offered was patterned after an original horseman's duster coat.
Then, movie stars such as Winona Ryder started wearing vintage gowns on the red carpet, which prompted others to seek out vintage eveningwear and clothes. "When I opened my store in 1981, vintage clothing was more an economic way to wear quality clothing and was a residual of the hippie era," Raymond said.
Inspiration or rip-off?
Yet the big question becomes when does inspiration turn into out-and-out plagiarism? Everyone remembered the brouhaha over the allegations that for the Spring/Summer 2002 collection of Balenciaga, designer Nicolas Ghesquière had copied the patchwork styles of San Francisco designer Kaisik Wong, who passed away in 1990. Ghesquière later admitted he had gotten his ideas from Wong's creations he had seen in a book.
"As a designer I really try to take a garment and be totally inspired by it but take the garment and create my own vision," said Estrada, who started her dress and separates company in 1997. "Sometimes the dresses of the 1950s don't fit the body shapes of today. The average waist size in the 1950s was 22 to 23 inches, and in the 1940s it was even smaller. And if you make something more modern, it is more wearable. My goal was never to look like I was wearing a costume."
Mitchell of Shareen Vintage believes half the talent of using vintage clothing for modern-day collection is being a great editor. "It means taking great moments of the past and developing them into your brand consciousness," she said.
Harmon, who carries a lot of vintage denim at Chuck's Vintage, noted that often the fabrics of yore don't work in today's modern world, which is one of the advantages of updated vintage styles. "Consumers try on vintage denim jeans and find they are not comfortable because they are used to trying on lighter 8-ounce or 7-ounce denim jeans," she noted.
Estrada said originally her goal was to sell to vintage stores, but they didn't like the idea of stocking new clothes that looked like the old ones they were carrying. "A lot of vintage stores mocked me and thought I was a big joke," she said. Now, some 10 percent of the 2,500 stores that carry her label are vintage stores. "Owners will say, 'You are our No. 1–selling dress because we can sell the same dress over and over" instead of having only one of everything, Estrada said.
Other obstacles in the early days of her vintage-inspired line included trying to get a booth at MAGIC Marketplace in Las Vegas. "They didn't want to give me a booth. They thought my dresses were costumes," she recalled of that time 15 years ago. "So they put me in the Edge section, which was Goth and punk."