RETAIL
Intermix Chief Keledjian on New Store in Palo Alto, Calif.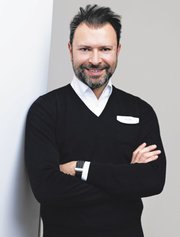 Gap Inc.–owned boutique chain Intermix opened its 38th store last month in the Town & Country Village retail center in Palo Alto, Calif., which is a short drive from Stanford University and in the middle of Silicon Valley.
The new shop was outfitted with iPad tablet computers instead of cash registers, so the shop's clients can use the tablets make purchases, view lookbooks and shop for items that might not be in the store's inventory, said Khajak Keledjian, Intermix's chief executive officer and co-founder.
Keledjian recently conducted a brief talk with California Apparel News Retail Editor Andrew Asch about running Intermix following the Gap acquisition in January 2013 for $130 million. He also talked about some of the merchandising challenges of a multi-line retailer.
How has Intermix and conducting the business of Intermix changed since Gap acquired it?
KHAJAK KELEDJIAN: Since our acquisition by Gap, we've been able to stay entrepreneurial and nimble while providing us with a significant platform for growth. While they help behind the scenes—for example: IT, legal, our distribution center—we're refining our omnichannel experience further.
We're aligning our business with our client at the center—making sure she can get what she wants, when she wants, where she wants. We don't have a wall between our channels—our marketing is focused on the customer, not the channel. We know digital marketing is a major entry point to our brand, and our messaging reflects cross-channel collaborations. In addition, our product is merchandised similarly online and in-store, and we have one customer-service team. Further, while our selection is localized, our entire inventory is available for customers no matter where they physically live and our promotions and pricing matches, regardless of the channel, to provide a seamless experience.
There's an Intermix store in Canada. Will there be more stores overseas?
KK: Our website currently ships to international clients in 60 countries, but right now we're concentrating on our upcoming openings—Scottsdale [Ariz.], Aspen [Colo.], and additional doors in LA and Miami—but we're always doing our homework regarding international expansion.
What are the challenges of running a multi-brand store?
Curating a collection that's localized but still allows us to highlight our differentiators: our styling and sharp edit; projecting longevity of designers—we want to be the first in and the first out of a line; identifying designers and refining our mix so we're consistently luxe but also cool, chic with an edge, refining without changing; maintaining our culture and essence while we evolve—expanding certain categories and vendors and editing others.