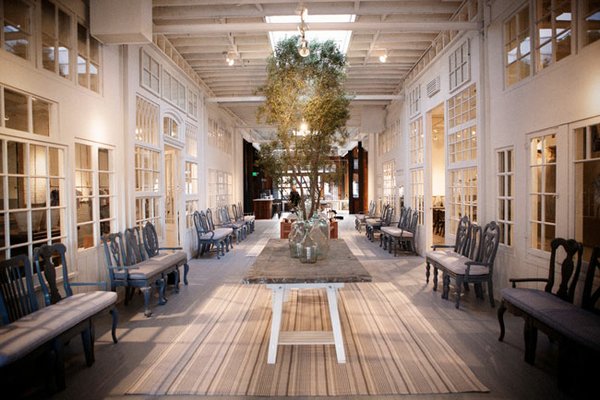 SHOWROOM PROFILES
Showroom Profile: Frank & Eileen
Frank & Eileen
Lady Liberty Building, Suite 500
customercare@frankandeileen.com
Step into the Frank & Eileen showroom on the top floor of the Lady Liberty Building and you may think you've stumbled on a quaint country house in 1940s-era Ireland.
That was all part of the plan for Audrey McLoghlin, founder of the Los Angeles–based men's and women's shirt company named for—and inspired by—her grandparents.
The original Frank and Eileen and their love story is integral to the branding of the 5-year-old company, which imports its fabrics from a single shirting mill in Italy and sews and washes the styles in Los Angeles.
The shirts—made in poplin, linen, oxford, denim and flannel—are wholesale priced from $82 to $98 for men's styles and from $77 to $86 for women's. The line sells in better specialty stores—such as Ron Herman, Fred Segal and Barneys New York—and nationwide at Neiman Marcus. About 50 percent of the brand's business is with retailers in Japan. Frank & Eileen recently opened its first free-standing store—designed to look like an Irish pub—in Tokyo.
Frank & Eileen has always been based in downtown Los Angeles, so when a space opened up in the Lady Liberty Building, McLoghlin jumped at the opportunity to move in.
"I always loved this building," she said, adding that the challenge was to keep the integrity and uniqueness of the space while making the space reflect the brand.
To transform the cavernous loft space into a country house, McLoghlin hired New York–based interior designer Melody Weir, who divided the 6,500-square-foot space into sections, including a tea room at the entrance with a wall of vintage family photos. There's a showroom space to showcase Frank & Eileen's 12 annual collections. There's an archive and design room, which houses a sample of every style the company has ever produced, which buyers can review for inspiration for exclusive items or to have an archive style redeveloped, McLoghlin said. The back of the showroom includes a kitchen and offices for McLoghlin and her team, Stephanie Bayan and Danielle Pratte.
Down the center of the showroom is a hallway Weir created after finding thousands of vintage windows. Weir found local artisans to create many of the pieces in the space, including the benches made from vintage chairs and covered in cushions made from Frank & Eileen fabrics. At the center of the space is a 12-foot olive tree that sits beneath one of two skylights, which help keep the space naturally lit throughout the day. When guests arrive, McLoghlin's 1-year-old labradoodle, Hunter, races down the hallway to greet them.