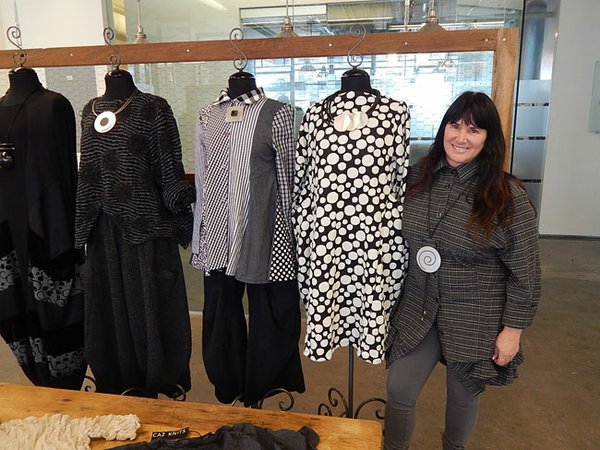 SHOWROOM PROFILES
Showroom Profile: Gallery 608
Gallery 608
Gerry Building,
Suite 608
(818) 994-3890
For more than 10 years, Jane Mohr shot fashion photography for several well-known European fashion publications—Italian Vogue, British Brides, L'Officiel and Io Donna.
With so much fashion in her blood, she turned to designing her own line, called Dress to Kill, and a sweater line called Caz Knits. They are shown in Gallery 608, which is a cooperative showroom that Mohr created and runs. "I network with other designers, many who have not shown in California before, to show here," she said.
One label she found recently—Vitamin from Minnesota—will be showing at the cooperative showroom during Los Angeles Fashion Market.
Nearly one-half of the showroom is taken up by Mohr's Dress to Kill line, designed out of her studio in Van Nuys, Calif. It is all manufactured in Los Angeles. She also creates her Caz Knits line of sweaters there, too. Those sweaters are hand-loomed in Los Angeles except for the cashmere creations, which are made in China.
All of Mohr's pieces have an artsy feel to them with fabrics sourced in Europe and Japan. "I'm known for my novelty fabrics," she said.
The average wholesale price for her lines is around $160, with the most expensive pieces wholesaling for $300.
"I am a destination showroom. My floor doesn't have a lot of foot traffic," said Mohr of the sixth-floor location. "Everything we have is wearable art. That is our niche."
Mohr also distributes accessories and jewelry she picks up in Europe, primarily Germany, that go well with her line. "We are a one-stop shop here," she noted.
Mohr sells to specialty stores across the United States and has a few accounts in England, too. "If you're a specialty store, I believe you should keep it special, which is where my line fits in," she said.
Mohr shares the showroom with Devora Braunstein of Ma Belle and a French jewelry designer whose section of the showroom is called Mon Bijou.
RELATED STORIES