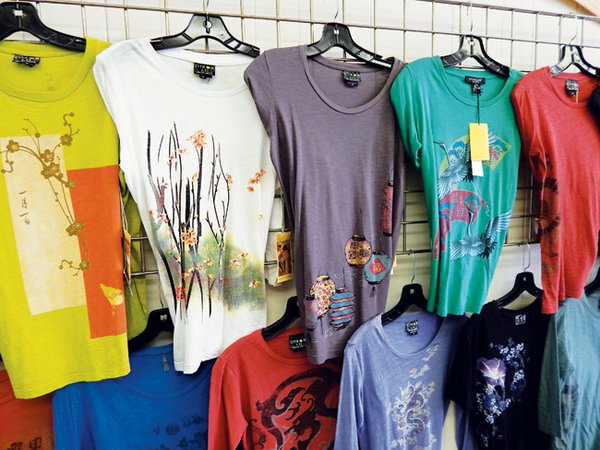 DESIGNER PROFILE
Citron: American-Made Mission
For more than a decade, the owners of Citron, located in Los Angeles, have been making their printed silk blouses and tops in China because of the intricate prints, designs and fabric used.
But then they heard about TV journalist Diane Sawyer's "Made in America" news series, where she maintained that if every American spent $3.33 a year on locally made products, there would be 10,000 new jobs created in the United States.
Citron's owners, Ricki and Aviva Wolman, were listening. They put their heads together and decided to create a new line of cotton T-shirts, cardigans and tops that would be made exclusively in Los Angeles. The line, called 3.33 by Citron, launched in 2011 and has been going strong ever since at various specialty stores as well as the Citron clothing store in Santa Monica, Calif.
"We wanted to see if we could make a small difference," Aviva said.
It was also a different kind of garment for the company. Previously, the Wolmans and their staff had been working with woven goods. Now they were working with knits.
"It was a learning process," said Penny Luther, the company's import production manager. "There is different shrinkage and processes. Also, it's a different ballgame producing in China and in the United States. Here you have to sit on everything and make sure it happens. In China, they give you a complete package and take care of it."
With printed T-shirts wholesaling for $25 to $28 and cardigans going for $28 to $31, stores have been willing to pay the slightly higher price. In return, the company's profit margin on the "Made in USA" product is 10 percent lower than the rest of the company's merchandise, Aviva said.
Adrineh Baghdassarian, the line's designer, said the key to the label's popularity is the handcrafted, vintage look. "All of the processes are hand-done," she noted. T-shirts are printed first and then overdyed.
Many of the prints used on the T-shirts have an Asian influence. "Oriental prints are our niche," the designer said.
To gather print inspiration for both the knit line and woven line, the company has a huge collection of antique kimonos, Chinese robes, Asian clothing and fabrics acquired by Ricki during his travels around the world.
For the T-shirts, the artwork ranges from leafy bamboo designs or flocks of birds to an intricate Japanese print with a certain Zen feeling to it. For more information, visit www.citronclothing.com.