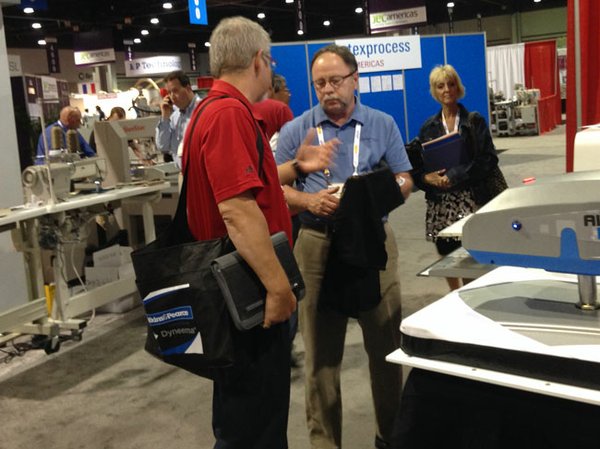 TRADE SHOW
Supply-Chain Solutions on Display at Texprocess Americas
ATLANTA—Exhibitors at the recent Texprocess Americas trade show highlighted technology and materials designed to streamline production, maximize efficiency and enable custom configurations.
For many, this technology is crucial to address the slow but steady return of apparel manufacturing to the United States.
Both Tukatech Director of Marketing Sonia Chhabra and Computer Generated Solutions Vice President of Sales Brian O'Connor noted strong interest among domestic attendees in bringing some or all aspects of production stateside. Many Central American companies expressed similar interest in keeping production in their own countries. Over in the show's Supply Chain U.S.A. area, Jim Lovejoy of the National Association for the Sewn Products Industry said his 34 members remained busy throughout.
Attendee Steve Luchansky, vice president of manufacturing with James Thompson and Co. in Greenwood, Del., was at the show looking at new inspection equipment. "Things are coming back [to the U.S.] slowly," Luchansky said, adding that this past year was the dyeing and finishing operation's best in 150 years.
Formerly called SPESA Expo, Texprocess Americas relaunched in the U.S. in 2012 after organizer Messe Frankfurt hosted an international edition, Texprocess Frankfurt, in Germany in 2011. This year's show ran alongside Techtextil North America during the show's May 13–14 run at Atlanta's Georgia World Congress Center.
Tim McDaniel of King American Textile Group said Texprocess Americas seemed bigger and better than two years ago. (The Dover, Ga.–based mill was recently acquired by Milliken & Co.)
Design-driven
A common theme at the show was the importance of better integrating designers into a company's overall operation.
For example, at the Lectra booth, attendees gathered for a presentation of the new textile design moduleof Lectra's Kaledo Suite, which lets users develop or expand weaves, knits and prints using tools designed with production in mind.
"Designers are typically isolated from the rest of the process," said Christine Fox, a design solution expert for Lectra. "We wanted to provide for better collaboration and communication."
Easy-to-use tools allow designers to save and locate existing designs on a shared platform. The module automatically generates technical fabric reports and pushes changes to where the textile is used, "so [designers] don't have to waste time looking for the latest version," she said.
A shared platform allows design and product-development teams to review design options, check fit and work efficiently on modifications. Visual libraries of industry-standard weaves give novices an easy start and allow experts to customize existing patterns. A "Product Genius" feature generates unlimited, slot machine–style combinations of selected fabrics and colorways, and a draper-studio feature provides realistic depictions of prints in use. The suite integrates into Lectra's Fashion PLM (Product Lifecycle Management) solution.

Gerber Technology spotlighted its AccuMark 9.0 pattern design and marking software, GERBERspreader XLs, and Paragon cutting system. When integrated, the technology tracks orders through the cutting room using a standard barcode. Users create and edit cut plans in AccuMark 9.0. Cut plan details—including number of plies, spread length and mode—are passed to the spreader. After spreading, the plan is updated with the actual number of plies spread. This information then travels to the Paragon cutter, where the operator scans a barcode to retrieve the proper cut file. After cutting the job, the Paragon system generates a report that details the number of parts cut and number of units cut, enabling managers to compare the details of the job cut with the original cut plan and accurately track work in progress.
At American & Efird, there was strong interest in the relatively new Anaflax and AnaSoft threads, both of which are well suited to active brands. Director of Sales Mark Hatton also noted an uptick in concerns about sustainability, noting that the company issued its first sustainability report "decades ago."
Also on display were advances in machinery and materials technology. Alvanon introduced for the first time in the U.S. its women's intimate/swim AlvaForm for the intimate and swimwear markets. Offered in traditional B- and C-cup sizes and priced around $1,600, the form "opens up a world of vendors" looking for a reliable benchmark, said Fred Magner, regional director for the Americas. "You can still use your favorite fit model," he said. "But when you need to establish consistency, the form gives you the confidence you need." The full torso is constructed of memory foam and is 15 percent softer than the standard soft form for a more realistic evaluation of fit with compression-type fabrics.
Veit-Group's 8326 Shirt Finisher features an electronic dryness sensor for optimizing process cycles. The sensor measures the degree of moisture in the shirt's textile fiber and automatically stops the finishing process when the shirt is dry for shorter cycle times and increased productivity.
Atlanta-based Softwear Automation introduced its prototype of the world's first automatic sewing machine, SAM 1000, which incorporates the DARPA-funded startup's patented ThreadCount Technology. The company's first Threadcount-Enabled Device (TED), SAM is intended to operate autonomously, with a sewing precision of +/-1 thread, thanks to an advanced high-speed, machine-vision system coupled to an innovative material manipulation and material-handling subsystem that, together, replicate the functions currently performed by a human operator. Other TEDs will eventually include cutting stations, folding stations and other automated material-handling operations.
Industry insight
Texprocess' symposiums also provided insight into efficiency and design issues. During a product-development symposium, [TC] ²'s Elizabeth White stressed fit-enhancing technologies such as body-scanned avatars that can be imported using 3-D virtual software to test specific garment materials in appearance and behavior.
OptiTex USA President Yoram Burg shared virtual–product-development success stories, such as Coach's creation of 3-D samples for its complete line within two weeks after the company's planned production for the physical samples fell through.
The virtual images featured lifelike closeups of hardware and styles in all colors and configurations displayed for buyers on a 90-inch LCD screen. Said Burg, "Buyers said, 'That's the way we want to keep buying moving forward.'"
Companies that commit resources and incorporate "smart, predictive tools" can expect dramatic results, Burg added, citing Jones New York's reduction of time to market from more than 75 days to less than 30. "Virtual showrooms are probably how we'll be shopping in the future," he said.
Noting that design-centric brands outperform the S&P index by more than 200 percent, Lectra Business ConsultantLuis Velazquez argued that, for such companies, isolating designers is a mistake given the rapid development processes required in today's market. "True collaboration allows the line planner to create a budget for the season that can be used by the designers as 'guard rails,'" Velazquez said. "Textile designers can build on the design, pattern designers can pull from the platform, and so on."
When asked whether new technologies ultimately will transform designers into data-entry specialists, Velazquez asked companies to consider whether designers are doing that now.
"By providing more access and connection, technology should free the design team up from those [data-entry] responsibilities and let them come up with product development that delivers on your brand promise," he said.
The third edition of Texprocess Americas will take place in Houston in 2015.