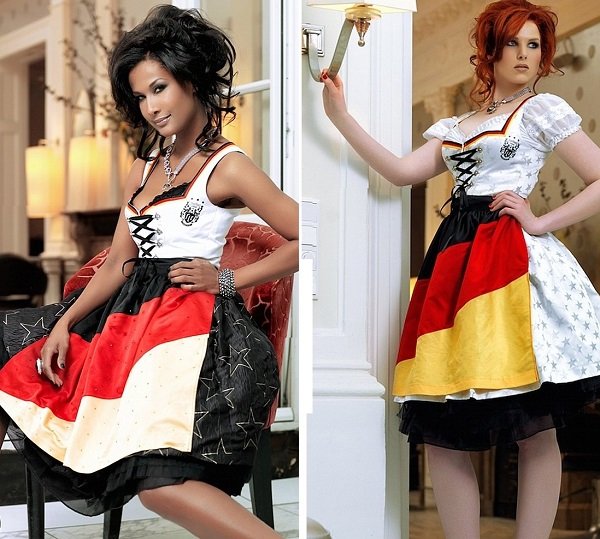 FUTBOL + FASHION
Soccer Style in Anticipation of the World Cup
I may be tempting fate and public relations, but I've received surprisingly few World Cup-related fashion pitches—and the games in Brazil are just two weeks away.
I recently wrote about Nike and Adidas' competing soccer shoes made with a form-fitting knit technology, but new athletic shoe technology launching in time for the games is to be expected.
How about futbol-themed fashion hosiery? Today I received a pitch for Kangol's World Cup socks. The hat maker is launching its "Nation Series" sock collection in time for opening day (on June 12). The socks will sell for $6 at Kangol stores and e-commerce shops.
That sent me off in search of more World Cup soccer style, which led me to a story about German costume maker Anger Maier and its soccer-themed dirndls and lederhosen. Hat tip to Euronews, which has a silly and entertaining video showcasing the designs by the Munich company. You can watch the video here).
Forever 21 has a Soccer Collection of T-shirts celebrating a handful of teams (including Brazil, the U.S., Mexico, Italy, England, Germany and Spain). And Macy's has men's World Cup gear—mostly tees, jerseys and track jackets—by Tommy Hilfiger, Boss, Armani, Nike and Nautica. The same goes for sporting goods stores like Sport Chalet and Big 5.
But beyond the usual athletic apparel, I'm sure there's more fashion-focused soccer fashion out there.
Back in February at the Stitch trade show in Las Vegas, I spotted a very fancy soccer ball purse made by Los Angeles–based Leo Bella. For those looking for a slightly less literal approach to soccer fandom, the company also makes crystal-studded flag-themed clutch bags for its Unity Collection, which raises money for the World Orphanage Foundation. So you could be doing good while showing off your national pride (and presumably carrying your stuff).
Clearly, there's something about soccer that says "Swarovski crystals" to designers. Last year at the Project show in Las Vegas, I met Fashion of Brazil's Leopold Nunan Soares, who distributes Brazilian footwear line Fernando Pires. To celebrate the World Cup, Pires created a Brazilian flag platform shoe made with more than 8,000 hand-set crystals.
I've said it before and I'll say it again. Thank God for Etsy. The marketplace for hand-made goods by artisans around the world turned out to be a perfect place to look for more-creative World Cup offerings.
For example, I found this UK-themed World Cup corset dress by Lyndsey Clark. I'm not sure what makes it specifically World Cup-related, but I'll take it on creativity.
Milly's Dream Boutique also has an awesome World Cup tutu dress—you can pick your team, but the dresses only come in little girl sizes.
Liskalation is billing its flag dresses and rompers as part of its limited soccer edition collection. But I hope you're a fan of Germany or Spain. Those are the only two options offered by the Hamburg-based company.
So, there you go. Suit up and get ready for the games.