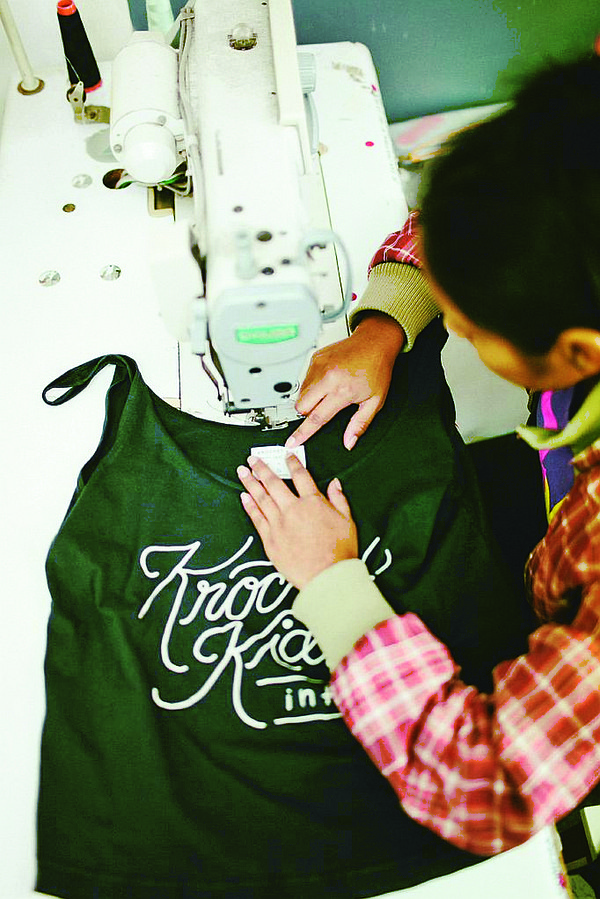 SOCIAL BUSINESS
Krochet Kids International Asks, 'Who Made Your Clothing?'
On Nov. 19, Costa Mesa, Calif.–based Krochet Kids International let consumers shopping on its website to name their own price for the company's beanies, bags and other hand-crafted apparel and accessories.
The promotion, called "Name Your Price, Define Your Impact," was created to "discover how shoppers value a product when they can know who made it and how the purchase impacts the person's life" and was part of a larger social initiative designed to draw a connection between consumers and the people who make their clothing.
Krochet Kids' founder, Kohl Crecelius, wants to steer consumers away from asking "who are you wearing" and instead have them consciously consider who made what they are wearing. The Name Your Price initiative is part of the company's holiday 2014 campaign, #KnowWhoMadeIt.
The registered 501(c)3 nonprofit organization strives to break poverty cycles through providing employment, education and mentorship to highly vulnerable women. The company first began working with women in Uganda in 2007 and expanded into Peru in 2011 following a Kickstarter campaign.
"Through a unique model, we are empowering the women of Northern Uganda and Peru with the assets, skills and knowledge to lift themselves and their families out of poverty, Crecelius said. "We provide jobs so that women can meet the present needs of their families, educate them so that they develop beyond the need for outside aid, and provide mentorship to help each lady plan a unique and sustainable career path for the future."
The company is currently working with 150 women in Uganda who are taught to crochet beanies, cross-body bags, scarves, bowties and infant booties. In Peru, Krochet Kids is currently working with 35 women. The company has also set up a cut-and-sew facility in Peru, enabling the company to offer more-diverse product categories, such as knit lace tops, lounge pants, backpacks and graphic tees.
The workers' progress is monitored monthly through a mentorship program, which measures growth in six categories: economic, physical, spiritual, psychological, social and intellectual. The company makes a commitment to work with each woman—or "beneficiary"—for at least three years.
"Too many aid programs keep people in poverty in dependent cycles," Crecelius said. "We pride ourselves on giving the women the tools and mentorship they need to become self-sustaining."
Krochet Kids workers produce apparel and accessories for women, men and children. Each piece is signed by the woman who made it, providing a tangible story line of where the item is made and who the consumer is supporting with a purchase.
"The products created abroad have been well received here at home, and the collaboration of our staff and beneficiaries around the globe has created a sustainable cycle of employment and empowerment," Crecelius said.
Krochet Kids International is currently selling in more than 400 stores across the United States, including Urban Outfitters and Whole Foods, as well as in Southern California retailers Kitson, the University of Southern California Bookstore, Jack's Surfboards, The Denim Bar and Una Mae. It is also selling in stores in Canada and Japan and ships worldwide through e-commerce on its website. Retail prices range from $20 to $50.
"As a nonprofit, we are able to focus more resources and financial investment into our program initiatives and the activities that achieve empowerment," Crecelius said. "This allows us to give our global staff, donors and customers the clearest picture of why we exist: to create lasting impact on the ground. We all work together to empower others."
Going forward, Crecelius said he plans to expand the Krochet Kids concept to additional regions.
"Our two project locations are but microcosmic examples of what we hope to replicate throughout impoverished communities around the globe," he said.
For more information about Krochet Kids, visit www.krochetkids.org. To learn more about its "Know Who Made It" initiative, visit www.knowwhomadeit.com.