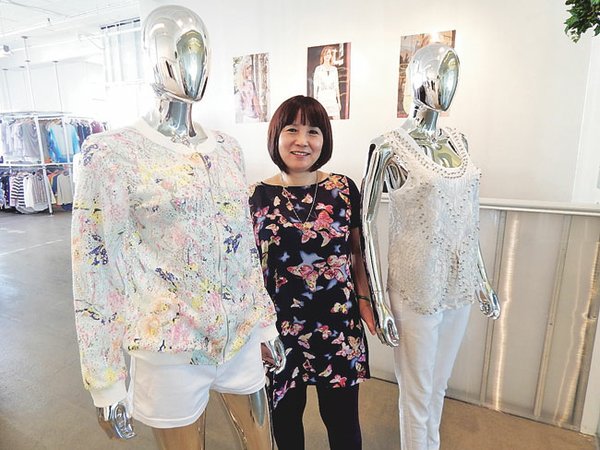 NEW LINES
Showroom Profile: Shu Shu Showroom
Gerry Building
Suite 708
(213) 612-0088
For years, Lillian Hsu shuttled back and forth between her company's headquarters in South El Monte near Los Angeles, her main showroom on Seventh Avenue in Manhattan and her factory in China.
But you can only spend so much time on a plane before you feel it's time to turn in the frequent-flyer card and spend more time closer to home.
So, earlier this year, Hsu decided to make her life more manageable by shutting down her New York showroom and transferring it to Los Angeles. In August, after surveying a few of the showroom buildings in the downtown fashion area, she leased a 1,500-square-foot space in the Gerry Building. "I feel more is happening here [Los Angeles] right now," said the veteran apparel maker, whose lines are Shu Shu, Kerri Kelsey, Yuli and Lulu. They cater to a wide range of women, from young contemporary and contemporary to misses, with wholesale price points ranging from $30 to $59. "Everybody wants a contemporary look," the clothing-company owner said.
Hsu liked the bright, airy showroom space in the Gerry with its tall windows, exposed ceilings and concrete floors. She hired Debbie Rubio as her national sales manager and still has someone representing her in New York.
Hsu has been in the garment business since 1990, when she started the Kerri Kelsey line, her misses label. By 1994 she had added Shu Shu, which has more contemporary designs. Over the years, she has worked with big department stores such as Lord & Taylor, Nordstrom, Dillard's, Macy's and Stein Mart.
All her labels are made at her factory in Guangzhou, China, where she employs 300 workers. Hsu feels it's important to have control over the manufacturing side of the business to make sure clothes fit well and are well made. She also does a lot of private-label business, and having your own factory guarantees deliveries on time.