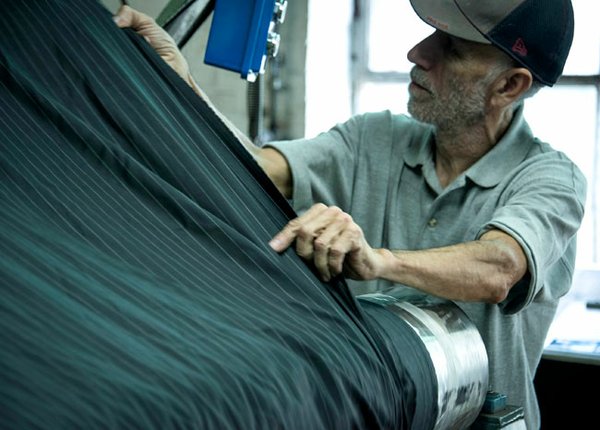 AMERICAN WOOLEN CO.
Relaunched Mill Has American Heritage and Italian Know-How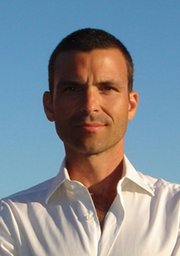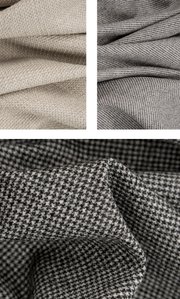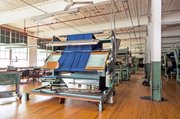 A 19th-century textile mill in northern Connecticut is currently humming with the activity of 40 looms making woolen and worsted fabrics for the American luxury market.
The mill, founded as Warren Stafford in Stafford Springs, Conn., has been reopened and relaunched as American Woolen Co., a company with about 25 employees and an initial launch collection of 23 fabrics, all 100 percent wool, for Fall/Winter 2015/2016.
The man behind the relaunch is an American-born financier who spent the last two decades working in investment banking in Europe. Working in London, Paris, Frankfurt and Milan, Jacob Harrison Long, American Woolen's chief executive officer, became familiar with the quality and the branding behind Italian mills such as Loro Piana, Vitale Barberis Canonica and Filati Drago.
"I spent the last six years in Italy, so I know the Italian names very well," Long said. "A lot of the Italian fabric companies have done a tremendous job by branding the fabric. If you look back at the old Vogue and Esquire magazines of the past, [U.S.] fabric companies used to advertise directly to the consumers. But that all changed in the 1980s and 1990s."
When U.S. textile mills began focusing on commodity fabrics and moving production offshore, high-end mills in England and Italy found a niche supplying the U.S. market, Long said.
Long initially purchased the American Woolen trademark in 2013 with the intention of focusing on the design, marketing and sales of the fabric and placing production with some of the remaining wool mills in the United States. One mill that people kept recommending was Warren Stafford, Long said.
"Everyone was pointing me to Warren," he said. "On the first call, I was informed they were going to close effective Dec. 31, 2013. Once we were informed that Warren was being sold, we changed our strategy and realized that owning and operating our own supply chain would probably be the best way forward given the current conditions in the market."
Long said he was sold once he met with the Warren staff, saw the equipment and toured the facility. Since 1988, Warren had been owned by Loro Piana, the Italian maker of ultra-fine wool and cashmere. When the Italian mill took over operations at Warren, the company had upgraded the equipment and turned the facility into a state-of-the-art mill specializing in worsted wool, which is wool made from long-staple wool and typically used for suiting fabrics.
"What Loro Piana did was tremendous," Long said. "Loro Piana bought a woolen mill in 1988 and turned it into a worsted woolen mill. Loro Piana brought over the worsted technology—and I mean not only the machines because, remember, good machines don't make good product. People working good machines make good products."
When Long and his partners purchased Warren, they hired many of the longtime staff. Nearly all the current staff are former Warren employees, Long said, pointing to the average tenure of the employees—19.1 years. Two employees are fourth-generation Warren workers.
"People keep talking about the renaissance in U.S. manufacturing, and people keep saying the renaissance is going to come about by cheaper wages and cheaper energy costs. That's rubbish!" Long said. "The renaissance is going to come about because we can rebrand manufacturing. The people we're hiring back have a defined skill set, and that skill set is in need and in demand."
In addition to the state-of-the-art weaving at American Woolen, Long points to the company's expertise in finishing the fabrics.
"For example," he said, "certain products may call for washing for 10 minutes. The Italians may wash it for three minutes, take it out and dry it. Wash it for three minutes, take it out and dry it and then wash it in two increments for two minutes. It's 10 minutes, but [the result is] a different fabric. And that's what the Italians have absolutely mastered—the finishing techniques—and that's what we have inherited with the people here."
The purchase of Warren closed three months ago, leaving Long and his team little time to finalize the Fall/Winter collection.
"We were late [to the season,]" he said. "But we wanted to demonstrate to people that we could move on a dime and we're able to design, weave and finish 23 different fabrics for Fall/Winter."
For Spring/Summer 2016, the mill plans to expand its offerings and add some wool blends with silk and linen. For the following Fall/Winter season, American Woolen plans to offer mohair and cashmere fabrications, as well. Going forward, the company is looking at stretch wools and knits.
"We want to focus on what we know well, and we know worsted and woolen fabrics very well. And I would hope we can carve out a definable and defendable niche within those areas [first]."
Prices for the American Woolen launch collection range from $20 to $30 per yard, and there is a four-piece minimum, with pieces running 55 yards each.
"Having been in Italy, I'm the first to tell you that the cost structure in Italy is higher than America. Social costs are higher, energy costs are higher, environmental costs are higher," Long said. "It was unique that Italy had carved out a niche, yet America, which [once] had that niche, had lost it."
Last year, Long relocated with his family from Milan to Florida. Back in the U.S. after more than two decades away, the Chicago native sees a renewed interest in American-made products coinciding with a renewed interest in men's suiting after several decades of casual dressing.
"In the past 30 years, America was very much targeting casual," he said. "In the 1990s, investment banks were going casual because they were competing with Silicon Valley to retain young workers. Now people are telling me in 2014 most trading floors are men wearing two-piece suits. If you spend time in New York, walk up and down Park Avenue; guys are wearing suits again."
Long compares the interest in American-made fabrics to the rise in the craft-beer industry in the U.S.
"When I grew up in the 1970s, the only people who wanted to work in a brewery were Laverne and Shirley, if you remember that TV show," he said. "But the craft beers have carved out a niche, and although it only comprises 8 percent of the U.S. beer market, that segment is growing by double digits while U.S. beer consumption is declining. I believe in made in America. I believe when America sets its mind to doing something, we do it well and we do it correctly and the quality is paramount. That's what we're trying to do here. We want to create a niche. We want to create a brand. We want people to look at the garment and say, 'Is it American Woolen?'"