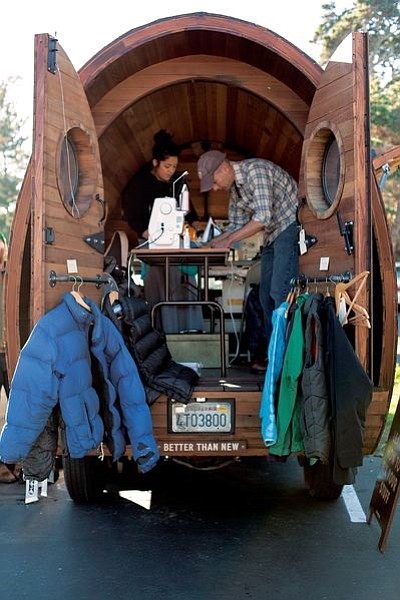 ENVIRONMENT
Patagonia Hits the Road Repairing Clothes
Some people take a road trip to escape the world. Others take a road trip to repair your clothes.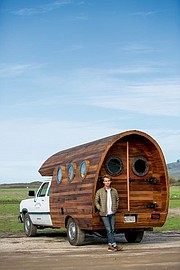 Today, Patagonia is launching a coast-to-coast tour in a repurposed custom camper that runs on biodiesel fuel when traveling and solar energy when standing to power the sewing machine inside.
The Worn Wear Wagon, as it is known, sets off today from Ventura, Calif., home of Patagonia, and heads north to San Francisco. After that, there are stops in San Francisco on Saturday at the Mollusk Surf Shop, the Four Barrel Cafe and Yurdle before heading to Bend and Portland in Oregon, Seattle, then off to Moab, Utah, Colorado and points east until it ends in Boston on May 12. Curiously, this great trip is not even passing near Los Angeles, home to many, many surfers who buy Patagonia wear.
The idea of the tour is for the staff from Patagonia's repair facility in Reno, Nev., to fix zippers, sew up seams, repair button holes, pulls and anything else that can be sewn up. There are no repair costs. The idea is to extend the life of the garment, even if it is not a Patagonia-made item, which helps reduce carbon emissions and conserve water.
The company said it can improve sourcing and tinker with its supply chain and do all sorts of environmentally friendly things, but using clothes longer is just as effective. Also, the people working in the Worn Wear Wagon will be selling used Patagonia items.
Even the Worn Wear Wagon, designed by artist/surfer Jay Nelson is environmentally friendly. It has a camper shell made from redwood salvaged from giant wine barrels mounted on a 1991 Dodge Cummins. The mobile repair shop has an industrial Juki sewing machine.
To learn more about the wagon's schedule, click here.