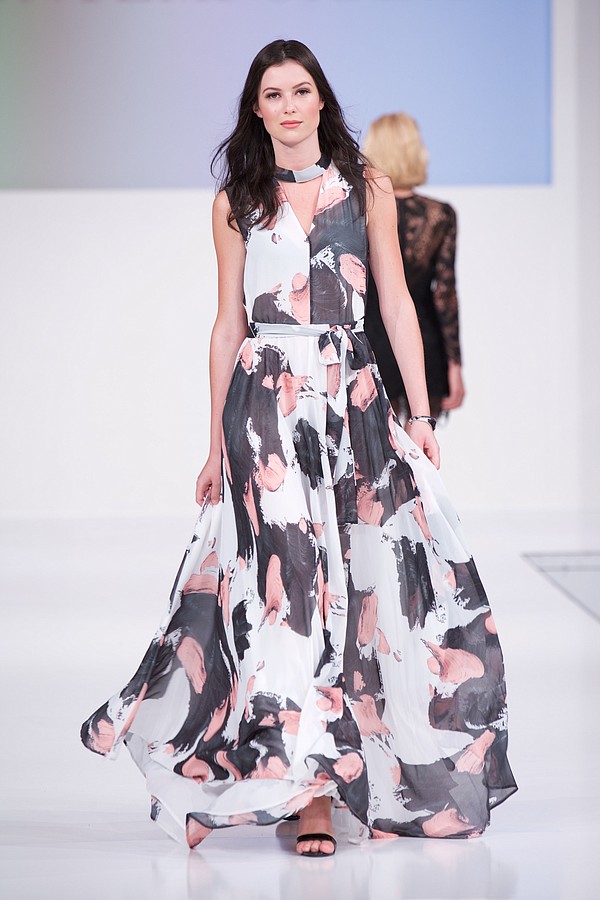 DIRECTIVES WEST
Highlights Trends for Fall 2015 in Runway Show

Photo Gallery
Directives West Highlights Trends for Fall 2015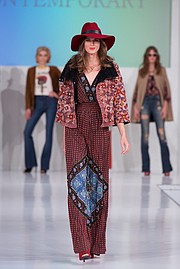 Scores of store buyers filled the Fashion Theater in the California Market Center in Los Angeles for a runway show that outlined some of the emerging Fall 2015 trends presented by the buying office Directives West.
The 1970s were front and center with enough fringed leather coats, vests and purses to outfit the entire audience at a "Crosby, Stills & Nash" concert.
Flared and high-waist jeans were also present on the runway, along with more current silhouettes such as distressed skinny jeans and cropped denim with cuffs.
Ponchos, capes, tunics and long vests were popular items to layer over blouses, sweaters and T-shirts. Faux fur was seen everywhere in the form of coats and vests, and plaid was still alive and well with youthful looks in blouses, pants and dresses.
Shelda Hartwell-Hale, vice president at Directives West, told the crowd at the April 7 show that buyers needed to look at the growing categories of activewear, performance wear and athleisure as avenues to boost sales. "The whole plus-size business in juniors is a growing trend and a whole new growing trend in the women's area," she added.
The show was divided up into five trends:
Mythical Nomad: This is definitely where the 1970s comes into play. There are a lot of influences from the hippie era—the days of flower power and free love. The clothes are folk-lore inspired with an abundance of prints and layering of mix-and-match items.
Caught Up in Comfort: This is where the California lifestyle appears front and center in fashion. Think easy dressing with unconstructed shapes and layers. There are techno fabrics for a lightweight feel. A plethora of cropped tops populate this trend as do shorts and leggings.
Fall Into Romance: Vintage inspiration infuses this trend with a touch of femininity and airy fabrics. Lots of lace and velvet here as well as shine and embellishments.
Homespun: To get a hold on this trend, think about hanging out in a mountain cabin. Distressed jeans with plaid shirts were very big as well as Nordic prints and long textured sweaters. Khaki pants fit in perfectly here. This is where you get to bring that old denim jacket out of the closet.
The New Normal: Clean looks and sophisticated lines make up this trend, composed of luxe fabrics and not many prints. It is a sort of boy-meets-girl look with menswear-inspired pants and blouses, lots of layering and comfortable silhouettes. Long vests, dusters and flowy trench coats were on the runway.