TECHNOLOGY
Fabrium: Taking the First-Step of Fabric Sourcing Online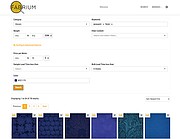 Together, Aydin Cubukcu and Burak Topcuoglu have more than 30 years of experience in textiles.
"We've cut swatches and walked the production lines," Cubukcu said.
Last year, Cubukcu and Topcuoglu began developing Fabrium, an online sourcing site to connect textile mills with designers and manufacturers.
Fabrium (www.fabrium.com) was unveiled during the recent run of textile trade shows in New York, when Cubukcu and Topcuoglu hosted a party on July 22 to officially launch the site.
Currently, Fabrium features 12,000 designs from over 30 mills.
"From lace to activewear, wovens, knits for tops and bottoms, suiting and embroidery, we try to cover every category," Cubukcu said.
The site is free to use for designers and manufacturers and allows them to check out the latest designs from their favorite mills or search for something specific for a last-minute order. They can find contact information for mills and their agents around the world. Users can request sample yardage, search for in-stock goods and inquire about current yardage.
Fabrium allows users to search by fabric, content, country of origin, price, sample minimums and bulk minimums. If they want to search by color, users can click on a color wheel to see everything available in that color range.
"If a customer can put it in a paragraph, we put it in a data point," Cubukcu said.
The mills and agents can use Fabrium to create special portfolios of designs that can be mailed to key customers.
"The Fabrium platform stops at creating a referral," Cubukcu said. "After that, it's business as usual."
Fabrium allows users to only view from select suppliers and allows the mills to control who views their collection.
"For a mill, their designs are their babies," Cubukcu said. "We listened to the customers in the development stage and listened to what they wanted to see."
Cubukcu and Topcuoglu don't see Fabrium as a replacement for traditional sourcing methods such as attending trade shows or meeting with agents face-to-face.
"Our job is visual; the tactile, the hand feel is important," Cubukcu said. "This is all about discovery and finding the right fabric in the right way."