TRADE SHOW
Kingpins Continues to Expand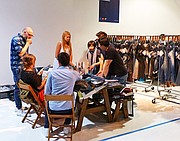 Andrew Olah, founder of Kingpins, said the move was prompted by demand for booth space.
"We had an enormous number of requests to be in the show," he said.
Location is only one of the changes planned for Kingpins; the show will also shift its dates from its traditional January/July schedule to a November/May schedule beginning with its Nov. 3–4 show at Pier 36 NYC (Basketball City) in Manhattan.
"We signed a two-show lease," Olah said, acknowledging "it's a gamble," but the date change came at the request of the mills.
Kingpins draws a crowd of denim buyers from large retailers and brands as well as smaller denim designers. Early on the second day of the recent show, more than 300 companies had already stopped by the Kingpins show.
The expanded size of the show earned high marks from QST sales rep Leslie Novick, who said she thought the show's exclusive invitation-only policy may be keeping some companies away.
Representatives from Levi Strauss & Co. were spotted at the Global Denim SA de C.V. booth. The Mexican denim mill recently announced it is building a new state-of-the art facility across from its main factory in Puebla, Mexico.
Stocked with German and Italian machinery and powered by hydro-electric energy, the new facility—called Prime—will be dedicated to developing products for the premium market.
"It's going to be a big playground," said Michelle Branch, Global Denim's director of sales.
At the booth for Italian denim mill Berto and its premium selvage brand Blue Selvage, Phil Fox, owner of Los Angeles–based Fox Fabrics, saw a mix of high-level companies such as J. Crew, Polo Ralph Lauren,Citizens of Humanity and Uniqlo as well as smaller, edgy brands that were interested in the Blue Selvage collection.
At the Cone Denim booth, Kara Nicholas, vice president of design and marketing, was introducing attendees to Cone's new natural indigo initiative. The company has been working with American farmers for the last year to grow indigo for its Natural Indigo collection, produced at Cone's White Oak facility in Greensboro, N.C.
The initial collection includes two selvage denims, a 13 ounce and a 16 ounce. "The shade is really vibrant," Nicholas said.
Cone has also been working on a number of performance denims, including moisture-management denims made with Dri Release, Sorbtek and Coolmax. The company also has high-strength denim made using Dyneema andToughmax as well as a water-repellant denim called ConeGuard.
"We do have clients coming to Kingpins looking for performance," Nicholas said, adding that fashion brands want to add performance qualities as a way to add value. "Now we're even having clients ask to mix different technologies."
The challenge, Nicholas said, is to add performance attributes while still maintaining the look and feel of denim.
"We're taking denim to different levels and seeing what the opportunities are for us," she said.
Stretch for men
At the Kingpins show, several companies were talking about new stretch denims for men and women.
Global Denim was promoting LaFayette, a warp-stretch denim design for men.
"We're really breaking ground in terms of movement for men," Branch said. "We want our stretch to move the way men move. We put the stretch in the warp only."
In addition to adding vertical movement, warp-stretch denim responds well to heavy abrasion.
"It allows us to do all kinds of destruction and where you get a break, you see cotton and not Lycra," Branch said.
LaFayette also has a nice drapey quality, making it a good fit for a women's boyfriend fit as well, Branch said.
Turkish denim mill Calik also has a warp-stretch denim made with Invista's T400 corespun Lycra for good recovery.
Hamit Yenici, general manager, said there's a market for high-elasticity stretch denim for men, but it tends to work for a younger, trendier customer. Yenici said the company was looking for a product for a wider men's audience.
"When you consider men's movement, it's more vertical," he said. "You don't need huge elasticity in the length. Rigid fabric has almost 5 percent growth and no power to bounce back. In this case, we have almost 2 percent growth and less-baggy knees."
Plus, Yenici said, there's less shrinkage with the T400 warp-stretch denim, so it can be offered in wider widths.
The result looks like a traditional rigid denim—think of "the Bruce Springsteen jean," Yenici said—but with "the highest comfort."
Mexican denim mill Kaltex was showing a 10-ounce sateen denim for menswear.
"It can be a beautiful trouser with stretch yarn for comfort," said Kaltex designer Cori Olson.
Olson said she was noticing a lot of the same fabrics working for menswear and womenswear.
"The men's weights have gone down to 11 ounce or 12 ounce, and for a cool women's boyfriend, they can go up to 11 ounce," she said.
Olson was also showing a super-high-stretch sateen for women as well as the 10-ounce sateen for a women's skinny flare style.
"It's all how you finish it," she said. "You can do a heavier fabric and make it a trouser."