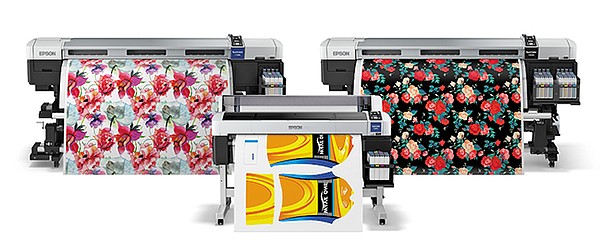 TECHNOLOGY
Epson's New Sublimation Printer and Ink Designed With Fashion in Mind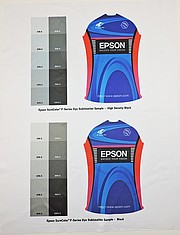 Print solution company Epson has the fashion industry in its sights, hoping to win designers over with the promise of creating their own graphic prints on demand.
Epson's existing sublimation printers worked well for prototypes and limited production runs, but apparel makers told the company they needed a printer capable of continuous printing at high speeds.
The company, which has offices in Long Beach,
Calif., is getting ready to roll out the latest in its SureColor F-Series of sublimation printers. The top-of-the-new-line printer, the F9200, is a dual-printhead, 64-inch-width printer.
"This solution is specifically geared toward fashion," said Tim Check, Epson America's product manager for professional imaging. "The new technology that we have coming out is based on what we've heard back from fashion and sports apparel [companies and the] solutions that they need."
Priced at $26,000, the F9200 is capable of printing at "just over 1,000 square feet an hour," Check said, although production speed is typically more than 500 square feet an hour.
The F9200 uses the same printhead design as Epson's earlier top-of-the-line model, the F7170, but there are two of them and they're staggered to improve speed.
"Every time it takes a pass over the paper, it's printing over at least a 2-inch swatch. The two heads give it twice the speed right off the bat," Check said.
Also, the printer has dual sets of inks with a capacity of 3 liters of ink per color, or 12 liters of ink total.
"In a high-production environment, you need to have more ink," Check said. "This system is really built for 24/seven production. You can keep it running, and the printer sends you an email note when it runs low on ink or paper. It really, truly can be an unattended printer."
Epson enhanced the frame on which the F9200 sits to keep it steady and reliable. "It's built like a tank," Check said. "The system is built to last in an industrial environment."
The heavy frame helps wind the printed transfer paper tightly, Check said, to cut down on drift at the calendar press. "When it gets to the heat-transfer system, it's important that the paper stays put—it's not drifting," Check said. "Having a very precisely tight-wound paper is really important. A rigid frame helps produce much tighter tolerances around the winding of that paper after it's been printed."
There's also an optional post heater to help dry the ink prior to winding for companies using the printer in high-humidity environments.
"While we love the printer to work in 72 degrees and 50 percent humidity, we realize the printer is going to be used in many different places—from cold climates to maybe down in Miami, where it's 100 percent humidity and maybe 90 degrees," Check said. "The heating system will dry that paper before it reaches the take-up reel so you don't have any image being printed on the back side of the paper."
All of Epson's new printers feature an improved print carriage, which holds the printheads. "If someone accidentally left a pencil or pen in the print area—it does happen—when the print carriage comes over it and hits one of those things, it's not going to damage the printheads," Check said. "The printheads are protected by the carriage that they sit within. [Also] if the paper starts to curl a little bit while it's on the platen, the carriage will push the paper back down so you can continue to use the printer without having the printheads dragging across and potentially damaging the printer."
The F9200 has a three-pass production mode, meaning the print carriage passes over the paper three times before advancing.
"We found the print quality we can get with three passes is above what we can get with any of our competitors running at a four pass. It's almost what our competitors get running a six pass, which is half the speed that our printers are running at," Check said. "The printer has two printheads to go faster, but with this production mode, we're able to run faster at a lower pass count, making the printer able to run significantly faster where it counts, which is production speed."
Epson is also releasing a single-printhead version of the 64-inch-width printer, the F7200, which is priced at $16,000. There's also an entry level, 44-inch-width model, the F6200, which is priced at $8,500.
All three printers use the same ink set. "It all comes down to the width and the speed that the systems run at," Check said.
The F7200 is designed to be an easy-to-use system for companies looking to do on-demand and light production, Check said,
"Maybe they don't need to run 1,000 square feet per hour," he said. "But they do have jobs that come in, and they need to be able to print those and turn those around. It might be for a few items or 100 dresses or maybe for some signage that's going up for a trade show. The F7200 can get you in the running at just over 600 square feet per hour and production rate of about 240 square feet an hour."
Check describes the F6200 as "our most versatile solution."
"It's just a 44-inch width, and it's not geared for roll-to-roll. But it does have a built-in cutter, which makes it great for roll-to-print or cut-and-sew applications when you print just a pattern." (The F6200 is also good for companies printing promotional items and signage or specialty items such as photo printing on metal.)
The F6200 also has a high-capacity ink bottle, rather than a disposable cartridge, which will cut down on operating costs, Check said.
HD is the new black
Epson is also introducing a new black called the "High Density Black" or "HD Black." Athletic apparel makers had been asking for a richer, deeper black than was previously available from Epson, Check said. Sports apparel makers were looking for a rich black to make the colors and logos on athletic jerseys pop and look clear and vivid, he said.
Another benefit of the HD Black is it requires less ink than traditional blacks, Check said. As a result, users save money on ink and can switch to a lighter-weight transfer paper for added savings, he said.
"It cuts down on your ink usage significantly, so you're saving a lot more money when you print," Check said.
Epson's HD Black is priced the same as its standard ink, and the company worked on the chemical formula to ensure that the HD Black ink would work well with the Epson printhead and print system.
"These high-density blacks get sedimentation," Check said. "If [the ink] settles and you get a plug, it could damage the printhead. It took almost two years to develop this ink set. There really is a lot of chemistry research and development that went into this so you can use these printers 24/seven."
Spend and reward
Epson sells its products as a complete system of printers, inks, paper, software and service. The company has a rewards program that allows company owners to earn rewards for purchasing ink and paper. The rewards can be used toward discounted service warrantees or even a new printer, Check said.
"We provide a total solution," he said. "There's no finger pointing when the paper doesn't match up or when you're having issues with the ink or the printer is showing an error. It's one number to call. We'll take care of any of the issues you have."
The new F-Series printers are expected to be ready to ship beginning Sept. 1.
For more information, visit www.epson.com.