TRADE SHOWS
WomensWear In Nevada Trade Show Acquired by Urban Expositions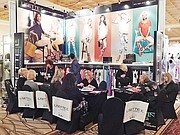 Urban Expositions, a trade-show company that organizes several gift trade shows around the country, has acquired the WomensWear In Nevada show. Terms of the deal were not disclosed.
WomensWear In Nevada (WWIN), started in 1998 by Roland Timney and Jeff Yunis with 250 booths, is a major apparel trade show that takes place twice a year in six ballrooms at the Rio All-Suites Hotel & Casino in Las Vegas when all the other apparel and footwear trade shows are held around the city. The most recent WWIN show was held Aug. 17–20 and included more than 800 fashion lines.
"The deal closed right before the WWIN show started," Timney confirmed. Roland Timney will help out with the show while his son, Chad Timney, who has worked with him for years on the event, will now manage WWIN.
"Everything at the WWIN show is going to run the way it has been running," Timney added. "It has been running very successfully, and there is no reason to change it."
WWIN was part of Specialty Trade Shows Inc., based in Coconut Grove, Fla., which also organizes the KIDShow Las Vegas, the KIDShow Miami, the Las Vegas International Lingerie Show and the Las Vegas Halloween Show.
Urban Expositions, based in Kennesaw, Ga., is no stranger to the world of apparel trade shows. For years, it organized Material World & Technology Solutions, an event held in Miami Beach, Fla., that focused on the textile, trim and sourcing sectors of the apparel industry. In 2009, organizers brought the show to Los Angeles, where it was co-hosted with the Los Angeles International Textile Show. Later that year, Material World & Technology Solutions was shuttered.
But the main focus of Urban Expositions, launched in 1995 by Doug Miller, the company's president and chief executive, and Tim von Gal, the organization's chief operating officer, started out as gift and souvenir shows. Those events include the company's first show, the Philadelphia Gift Show, followed by similar gift shows held in Los Angeles (the California Gift Show, now called LAMKT), Boston, Seattle, Chicago and San Francisco.
In 2008, Urban Expositions branched out to start trade shows in the fields of aviation, food service and restaurants, jewelry, and gaming. It also holds a Halloween and Party Expo in New Orleans and a P3: Progressive Pet Products show in Chicago.
The two Urban Expositions founders said they were approached by the WWIN organizers to purchase the show. It seemed like a natural transition. Doug Miller and Tim von Gal started their exhibition company three years before Roland Timney and Jeff Yunis started theirs. "We all became pretty good friends," Miller said. "We always said, 'When the opportunity arises when you want to sell the show, we hope you will give us a call.'"
The new WWIN owners said they have no intention of changing the location. They have contracts with the Rio All-Suites Hotel & Casino through 2018. "Right now the location really works for that show and is very, very much a part of what that show is," von Gal said.
The new owners hope to market the show more extensively through social media and digital marketing as well as advertising the show to gift-show visitors, whose interests often overlap between gift shows and apparel shows.
For now, booth prices will not increase. Contracts have already been handed out for the next show. "We will continue to look at that periodically with the guidance of Roland and Chad [Timney]," Miller said.
RELATED STORIES