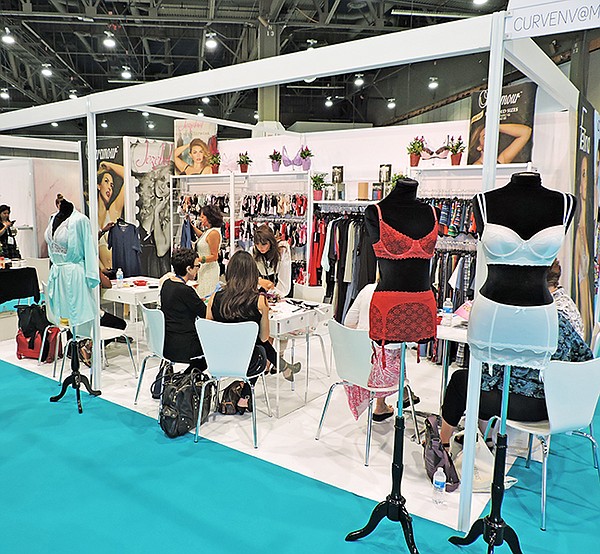 CURVENV@MAGIC
CurveNV@MAGIC Debuts 'Relaunched Show' in New Location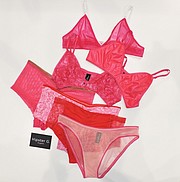 Upscale lingerie and swimwear show CurveNV has been part of the Las Vegas landscape since 2007, but in a partnership with MAGIC parent UBM Advanstar, the show moved from its prior home at The Venetian to a new space in the Las Vegas Convention Center for its Aug. 17–19 run.
Pierre-Nicholas Hurstel, chief executive officer of CURVExpo Inc., which organizes the lingerie and swim show, called it a "very successful relaunch." Hurstel said the show drew lingerie stores, swim retailers, resort buyers and specialty retailers such as Bergdorf Goodman.
CurveNV@MAGIC was housed in a separate 20,000-square-foot space next to WWDMAGIC with a bright Mediterranean-blue carpet and an innovative booth layout that encouraged visitors to browse the lines.
Monica Duffy, sales manager for Los Angeles–based lingerie line Hipster G., said she liked the layout, which she said resembles CurveNY, Curve Expo's lingerie and swimwear show in New York.
Lisa B., designer and owner of Hipster G., said she appreciated the opportunity to work with CurveNV attendees as well as WWDMAGIC attendees.
The two said most of the traffic was from West Coast retailers, but they also met with buyers from across the country—including Alaska—as well as "a lot of Japan."
"We worked with three online retailers, too—one we were after and two that surprised us," Lisa B. said.
Wholesale priced from $10 to $30 and cut and sewn in Los Angeles, Hipster G. features 21 bodies, which are available in five fabrics and a wide range of colors, including six shades of pink.
"There's literally something for everyone," the designer said. Before launching her line, Lisa B. was a sales representative and makes sure she can offer a unique assortment to each of her retail stores.
"There's a lot of competition. You have to keep it fresh," she said.
Many exhibitors reported booking appointments for all three days of the show. That was the case for Sandra Davidoff, director of public relations and marketing for Miracle Suit, who said the company had appointments booked through 3 p.m. on the last day of the show.
"We were pleasantly surprised," she said. "The activity was higher than last year, when we were at The Venetian. Here we found smaller stores, spas and a little more elite specialty stores. It's definitely more traffic than in The Venetian. My sales reps opened more accounts here."
Gihan Gabor, vice president of sales and marketing for New York–based Onis Design Group, which has the license for Joe's Intimates and Timo Weiland loungewear and Maxim Swim and Anna Sui swimwear, also saw a good mix of specialty retailers.
"Not just lingerie but fashion businesses and resort stores," she said.
Kris Mesner, owner of the Los Angeles–based Kris Mesner Showroom, was also pleasantly surprised by the traffic.
"I thought it was going to be a quiet day," she said on the last day of the show. "I've been busy, and I was busy yesterday and all day Monday."
Mesner and her team saw a lot of West Coast stores as well as retailers from "Texas, Oklahoma, The Rockies, a couple of New York people and some international people."
Mesner represents Eberjay loungewear, Heidi Klum Intimates, Stella McCartney Lingerie, Pleasure State intimates and Evollove intimates. Her newest line is a Turkish lingerie collection called Else Lingerie, which features a great fit and a retail price below $100.
"I had an unbelievable response to it," she said. "A lot of crossover with ready-to-wear."